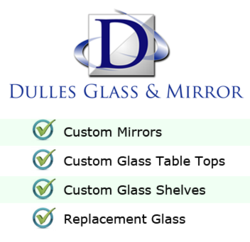 Reinventing the Future of Your Glass and Mirror Products!
Manassas, VA (PRWEB) January 08, 2013
Dulles Glass and Mirror has launched a revolutionary new feature for its online store. Now offered, is the ability to customize mirrors to the consumer's exact needs.
This Dulles Glass and Mirror solution provides users with a unique mirror creating web experience -- rather than the traditional "stock" offerings available on the web.
New Custom Mirror options include: shape, dimensions (size), color, safety backing, edging, and corner work. All of these customizations, shipped straight to the doorstep, without ever having to leave home.
Dulles Glass and Mirror Vice President Bahram Nasehi stated, "We are very happy to have this solution available for users. We feel that the ability to custom create a unique mirror has been missing from the web and that our online store can now offer users a unique shopping experience not seen anywhere else... ordering a mirror to your exact needs, and getting it delivered has never been easier."
Founded in 1972, Dulles Glass and Mirror is a full service glass, mirror, and shower doors sales and installation company that serves residential and commercial clients in the Washington DC metro area and nationally, through its revolutionary online store.
Dulles Glass and Mirror specializes in the following: •Shower Doors •Custom Mirrors •Custom Glass Table Tops •Custom Glass Shelves and •Replacement Glass.