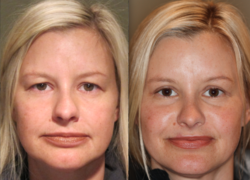 Denver, CO (PRWEB) January 16, 2013
A leading plastic surgeon says several surgical and non-surgical cosmetic procedures are trending in his practice. Dr. Michael McCracken of the McCracken Eye & Face Institute in Denver and Boulder says three procedures are growing in popularity:
Younger people are having blepharoplasty to keep younger - looking eyes
Blepharoplasty, or eyelid surgery can eliminate hooded, drooping upper eyelids and rejuvenate the lower lids. Now more men and women as young as their 40's are opting to have blepharoplasty to keep their appearance fresh and young-looking. Sagging upper eyelids can also make it difficult for women to apply eye makeup. "Since the eyes are often the first facial feature to show aging, people are very interested in maintaining their eyelid contours," says Dr. McCracken.
For patients with drooping eyelids or excess skin and fat around the eyes, Dr. McCracken frequently performs an upper blepharoplasty. "Upper eyelid surgery takes about 30 minutes and can be done with local anesthesia, or in an operating room with I.V. sedation," says Dr. McCracken.  "During upper eyelid surgery I make a small incision hidden in the natural eyelid fold, which minimizes visible scarring," he says. 
"We are also seeing increasing interest in lower eyelid surgery among men and women," says Dr. McCracken. "As a natural part of the aging process, the skin around the eyes can become loose and the fatty deposits can bulge forward. Time, heredity, and environmental factors can cause the skin and fat of the lower eyelid to become wrinkled and baggy, resulting in a tired, puffy, and aged appearance." 
For lower eyelid surgery, Dr. McCracken will make a small incision, hidden either in the skin below the eyelashes or the inside of the eyelid. "Eyelid fat is removed or repositioned to restore youthful contours, and if extra skin needs to be excised, this can be done through an incision below the eyelid," says Dr. McCracken. "The procedure takes aboout 30 minutes to an hour and most patients can expect to return to normal activities within a week. The stitches dissolve about a week after the procedure, and most patients can then resume wearing makeup and contacts."
Eliminating "bags" under the eyes non-surgically, without bruising
The "cannula" technique for Restylane is becoming more popular as patients learn about the benefits of filling under-eye bags or adding volume to tthe cheeks with little or no bruising or downtime, says Dr. McCracken. The Cannula technique has received considerable media attention as Dr. McCracken has demonstrated the procedure in several Denver TV news stories.
Men and women can develop "bags" under the eyes, even at a relatively young age. "Injectable fillers like Restylane are used to fix these problems, but the need for multiple injection sites can be very uncomfortable and can leave a person with unsightly bruises that last for days," says Dr. McCracken. "I use a 'cannula', which is a thin tube to precisely place Restylane under the eyes or in the cheeks to add volume. This eliminates the need for multiple needle injections, so bruising is reduced or eliminated. The person can go right back to regular activities," says Dr. McCracken.
Reshaping the face without surgery
"Botox is not just for wrinkles anymore," says Dr. McCracken. "Areas of the face like the upper eyelids, eyebrows and corners of the mouth can be subtly but noticeably recontoured with strategically placed Botox injections. We can bring the brows up a bit or slightly elevate the  corners of the mouth to accentuate a woman's feminine facial features and reverse the signs of aging," he says. 
As people age, there is a gradual loss of volume in the cheeks and mid-face, with volume shifting into the lower cheeks and jowls. This change in facial contours results in an aged appearance of deflated cheeks with a fuller lower face and jowls.  "Non-surgical facial reshaping can often be used to address these concerns," says Dr.McCracken.
Fillers such as Restylane are valuable for adding fullness, enhancing contours and correcting facial asymmetries, says Dr. McCracken. "Mouth rejuvenation can improve the 'mouth frown', which refers to the downward sloping lines that appear at the corner of the mouth. These lines can be made more noticeable by tissue from the cheek area moving downward in the aging process. This causes the tissue near the corner of the mouth to crease, causing the mouth frown. A combination of Restylane and Botox injections can be used to improve or eliminate the mouth frown."
For more information about McCracken Eye and Face Institute or to schedule an appointment with Dr. Michael McCracken, call 720.851.6600 or visit http://www.mccrackenmd.com.
About Dr. McCracken:
Michael McCracken, M.D. is a board certified ophthalmologist with additional specialized training in oculoplastic surgery. Dr. McCracken is among a handful of members of the American Society of Ophthalmic Plastic and Reconstructive Surgery, a highly selective society of specially trained surgeons who focus on the eyes and surrounding areas. Dr. McCracken is a fellow of the American College of Surgeons and a member of the American Academy of Cosmetic Surgery.  Dr. McCracken has lectured internationally and has also been chosen as a member of the BOTOX® and Juvéderm® National Education Faculty.
###