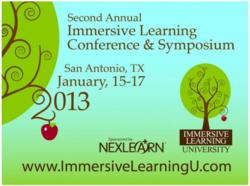 "We've harnessed that momentum from last year to make the 2013 Immersive Learning University Conference an event e-Learning professionals will find engaging, informative and relevant." Dennis Rees, President, NexLearn
Witchita, KS (PRWEB) January 04, 2013
The 2nd Annual Immersive Learning Conference and Symposium will be held January 15 - 17, 2013 at the Menger Hotel in San Antonio, TX. NexLearn's ILU conference includes workshops exploring new and innovative applications for Immersive Learning and Simulations from some of the most experienced practitioners in the field.
"The positive feedback about the inaugural conference has been great," said Dennis Rees, NexLearn president. "We learned what aspects of the conference participants liked best, and which areas they would like us to expand. We've harnessed that momentum to make the 2013 ILU Conference an event e-Learning professionals will find engaging, informative and relevant."
The ILU Conference will once again include workshops exploring new and innovative applications for Immersive Learning and Simulations from some of the most experienced practitioners in the field, including features and functions discussions for those interested in NexLearn's simulation authoring and implementation technologies. The conference will also feature case studies, best practices, peer discussions, technology Q & A sessions, future solutions discussions with NexLearn product managers, and networking opportunities.
This year's keynote speakers are:
Julie Dirksen — Instructional designer, speaker, and author of Design for How People Learn (New Riders, 2011), with more than 15 years experience creating highly interactive e-Learning experiences for clients—from Fortune 50 companies and innovative technology startups to major grant-funded research initiatives. The title of her presentation is "What does 'Learn from Experience' really mean?"
Gary Lopez Ph.D. — Dr. Lopez has been working in software development, media production, and education for 30 years. He is currently the Founder and Executive Director of Monterey Institute for Technology and Education (MITE), a non-profit corporation dedicated to helping meet society's need for access to quality education, and the manager of the National Repository of Online Courses (NROC) and HippoCampus.org. The title of his presentation is "Moving From 'One-Size-Fits-All' to Personalized Learning: A New Business Model for Education."
Additionally, beginning in 2013, the Immersive Learning University will kick-off a new Simulation Design Certificate Program (SDCP), allowing participants to be certified in practical Pillars of Knowledge, such as Project Management, Immersive Learning Design, and Technology & Integration. Workshops presented at ILU Conferences will count toward the SDCP.
"We received great feedback from last year's ILU participants," said Dean Fouquet, NexLearn's vice president of vertical markets. "People liked how practical the sessions were. They left with information they could immediately take back to their companies and use. This is what we are focusing our certificate program around—practical knowledge."
Fouquet explained that the ILU SDCP is the next step in nurturing the e-Learning community of practice. "We have a longer vision of creating an ILU Fellowship Program, where participants answer the call-for-papers for our annual conferences, collaborate in content creation by presenting their ideas, and eventually we'll consolidate that knowledge in an annually published, peer-reviewed journal that focuses on immersive design and e-Learning."
Information about the ILU and the Second Annual ILU Conference and Symposium can be found at http://www.immersivelearninguniversity.com. Conference attendees will receive a free copy of NexLearn's simulation design software, SimWriter Simplicity.
About the Immersive Learning University
The Immersive Learning University is chartered to provide the learning development industry with practical and advanced knowledge in the science of creating, producing, and deploying interactive learning courseware. The ILU is staffed with professionals possessing the highest level of experience and expertise in the industry of immersive adult learning.
About NexLearn
NexLearn is a custom education courseware developer with extensive expertise in creating immersive learning simulations. The company's experienced, award-winning team has introduced some of the most innovative courses, tools and technology to the e-Learning industry, including the award-winning SimWriter immersive learning simulation authoring tool. For more information about NexLearn and SimWriter, visit the NexLearn Web site: http://www.nexlearn.com