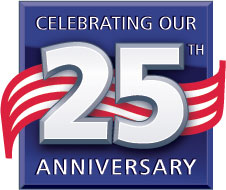 Over the past 25 years NAMFS has evolved into the industry's best resource. Our 25th anniversary year is sure to be packed with great networking opportuntites, educational events and much, much more. Deanna Alfredo, NAMFS President
Stow, OH (PRWEB) January 10, 2013
In 1988, the National Association of Mortgage Field Services (NAMFS) was created by a handful of professionals throughout the mortgage field services industry. This year with a membership that has grown to over 600 member companies, NAMFS is celebrating its 25th Anniversary. NAMFS remains the oldest and largest trade association within the industry today.
Over the past 25 years, the Association has made many advances in its stated mission of providing its membership with a cohesive voice with investors and others integral to the industry. It has expanded to included nurturing the Mortgage Real Estate Field Service system, conducting research in field service techniques that improve the effectiveness of its members, informing its members of changes in mortgage laws and practices, sponsoring meetings and educational programs, and cooperating with public and private agencies in the establishment of sound field service practices.
NAMFS released the first Industry Training & Certification Program in 2010. This Program includes module specific training manuals, in a pdf format, on which the tests are based. The intent of the Test Modules is to meet the Association's desire to provide members with a tool by which they can train and certify their staffs and subcontractor network on all facets of mortgage field services.It is the Association's goal to have the "NAMFS Certified" designation be the gold standard in the field service industry.
NAMFS Members are also given the chance to participate in several events throughout the year, the highlight of which is the Annual Conference held each fall. The 25th Anniversary Conference and Expo will be held September 5-7, 2013 at the Hyatt Regency Chicago. Members converge at this annual event to take part in training sessions, the opportunity expo, industry round-tables and social events.
About NAMFS
The National Association of Mortgage Field Services, Inc. (NAMFS) is the premier trade association for the mortgage field service industry. We are dedicated to working with all entities of the industry from the Government Agencies and investors that set policy to the contractors and inspectors that perform the work.