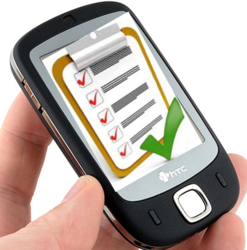 Stay compliant with FreshLoc SA.
Dallas, TX (PRWEB) January 15, 2013
The FDA, CDC, CAP, and TJC all have regulations regarding the proper storage of medicines, vaccines, and food. Staying in compliance using a manual temperature monitoring process can be difficult especially with rotating shift workers. Solutions for this critical record keeping have been surprisingly low tech: pen and paper clipboard systems on the refrigerator door. Automated systems are always the best solution, but companies with only a few refrigerators often opt to stay manual.
FreshLoc, the original wireless temperature monitoring system has released FreshLoc SA, a mobile solution that uses a smart phone, tablet or PC instead of paper to capture temperature data. It is a "cloud" based service that sends reminders to a phone or email to record the temperature data in real time to a cloud server where it is stored. Each entry is signed with an email or SMS address for FDA 21 CFR Part 11 compliance.
FreshLoc SA prevents the human error of simply "forgetting" by sending text alerts or emails to the scheduled employee to remind them to complete a temperature reading or an inventory date check. These text alerts serve as prompts and reminders to check the safety of food and medicine, the employee simply replies to the text or email with the inventory or temperature data and the compliance check is complete. The system will also alert a user immediately if the reading entered is outside of compliance and will prompt a corrective action response.
"Many of the people we have talked to have complained about the difficulty of staying compliant with manual temperature monitoring and inventory checks, but are not ready to move to a fully automated system because they only have 1 or 2 refrigerators. FreshLoc manufactures the most comprehensive wireless monitoring system available. We seek to deliver solutions that simplify and make the compliance process more efficient," says Dick Fettig FreshLoc's EVP. "But, we see the problem with these smaller locations and understand their position. We fully expect that there will be an automated solution in their future. However, in the meantime we want to keep them safe and compliant."
About the Technology
All that is needed to use FreshLoc SA is a calibrated thermometer and text or email. SA prompts for a temperature reading. A simple reply to the reminder with the current temperature and the data is recorded in the FreshLoc cloud where it is always available. FreshLoc SA is available free of charge at http://sa.freshloc.net/signup.asp.
About FreshLoc Technologies
Since 1999 FreshLoc has been creating and manufacturing RFID Solutions and Wireless Temperature Monitoring Systems used by hospitals, pharmacies, laboratories, restaurants, and food processors to comply with temperature related safety regulations and protect the safety of those they serve . FreshLoc is headquartered at 15543 Knoll Trail, Dallas Texas 75248.