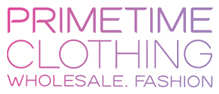 (PRWEB) January 03, 2013
PrimeTime Clothing, the online supplier of premium wholesale fashion apparel and accessories, has announced their recent partnership with Bongo International to facilitate their expansion internationally. Bongo will act as PrimeTime Clothing's international shipper and credit card processor. PrimeTime is excited for this new opportunity to process international credit cards and supply customers around the world with their quality wholesale fashions.
Bongo International will provide PrimeTime's online payment platform for international credit cards, fraud protections and logistical software to enhance global service functions. The addition of Bongo's services will allow PrimeTime Clothing their first chance to quickly and effectively reach customers from around the world. This comes as good news to international consumers seeking the latest in affordable high quality wholesale fashion and accessories.
PrimeTime Clothing is a leading online wholesale fashion apparel and accessory supplier based out of Los Angeles. They offer massive discounts and maintain regular low prices on their quality goods throughout the year. Their popular website features the most fashionable in wholesale accessories, wholesale dresses, wholesale plus size clothing, wholesale jewelry, cheap clothes for men, various wholesale women's clothing and more. PrimeTime Clothing is looking forward to having their quality apparel accessible internationally and they look forward to continuing their mission of supplying their customers with the latest in wholesale fashion at the lowest online prices.
About PrimeTime Clothing
PrimeTime Clothing is an online premium wholesale fashion apparel and accessory distributor with low, discounted prices. Based in Los Angeles, they have high quality goods that arrive daily from hundreds of Los Angeles area manufacturers and importers, so their customers have access to the latest fashions. They have over 25 years of experience in the business of discounted wholesale apparel. They offer additional discounts on top of their already low below wholesale prices. For more information, visit primetimeclothing.com or follow them on Facebook, Twitter, YouTube, Pinterest, Tumblr, Google+, or Instagram.