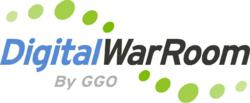 The combined power of Metalogix and Digital WarRoom creates a compliance repository, giving legal teams the ability to rapidly assess key information about an investigation or pending litigation, eliminating expensive outsourced processing
Seattle, WA (PRWEB) January 02, 2013
Digital WarRoom today announced a cooperative relationship with Metalogix that will allow organizations to effectively process, search and analyze potentially responsive documents when litigation or government investigations occur.
Metalogix is the trusted provider of innovative content lifecycle management solutions for Microsoft SharePoint, Exchange and Cloud platforms. Metalogix solutions help organizations manage, migrate, store, archive and protect enterprise content. Thousands of organizations rely on Metalogix to systems to efficiently manage ESI (electronically stored information) while ensuring compliance with records management and retention rules.
Digital WarRoom by GGO is the first e-discovery platform to provide law firms, corporate legal and e-discovery teams with complete ESI processing, document review and production in a single application. With Digital WarRoom in-house, the IT and legal teams can conduct searches in Metalogix stores, then transfer potentially responsive content into the Digital WarRoom WorkGroup server, where it is processed and indexed in a dedicated database for the case. The server administrator may then extend access to authorized internal users or outside counsel to complete the legal e-discovery process. The result is an efficient, compliant system for responding to e-discovery at a lower cost.
"SharePoint content stores and Exchange e-Mail are often the high volume sources of discoverable data in the face of litigation or government investigations," said Matthew Bruendl-Pandzich, director of the Archiving business unit at Metalogix. "We are excited to partner with Digital WarRoom to introduce extended e-discovery capability to our customers."
"Organizations adopting the combined power of Metalogix and Digital WarRoom have a self-contained, in-house repository with the ability to assess key information about a case without expensive outsourcing of processing and analytics on large document sets", said Barry O'Melia, head of product operations for Digital WarRoom. "Digital WarRoom leverages Microsoft SQL database structure and is fully compatible with the Microsoft environment, so our systems are readily accepted and implemented in many organizations."
According to Association for Information and Image Management (AIIM) well over half of all corporations are now using SharePoint Server and in 22% of those companies, every employee uses this popular Microsoft collaboration tool. The SharePoint collaborative design and flexibility make it appealing for enterprise search, enterprise content management (ECM), Business Process Management, business intelligence, records management, archiving, Intranet/Extranet, file sharing and intranet and public-facing websites.
About Digital WarRoom e-Discovery Platform
Digital WarRoom is the first e-discovery platform to provide law firms, corporate legal and e-discovery teams with complete ESI processing, document review and production in a single application, eliminating traditional high-cost volume-based processing fees, and streamlining the ESI processing, filtering, and review into a single platform. The design of this all-in-one platform eliminates the risk inherent in moving data between disparate systems. The Digital WarRoom platform is unique in its ability to create and save case data in a portable form. A case database created on any Digital WarRoom product can move seamlessly to any other Digital WarRoom product, with all attorney work product preserved. This unmatched flexibility allows organizations to cost effectively handle an entire portfolio of matters in-house, while retaining the option for full-service hosted review on larger, complex and global matters.
The Digital WarRoom platform has been acclaimed by e-discovery experts, law firms, and corporate clients as "impressive, seamless, and easy to use". An LTN product review compared the platform favorably with better-known but far more expensive solutions, saying "DWR seems to have adopted the best two or three features offered by leading e-discovery software makers such as Clearwell and kCura Relativity and packaged them all together in one functional, integrated platform, which can operate on a desktop, or laptop, computer in a distributed computing environment that incorporates other computers, such as a back-end database server.
To learn more about Digital WarRoom visit http://www.digitalwarroom.com.
About GGO
Since its inception in 2002, GGO has successfully completed over 3500 complex e-discovery matters. In 2011, GGO introduced the Digital WarRoom® line of software products, spanning the entire e-discovery lifecycle from capture through processing, review, and production. Customized services include M&A target data preservation and internal data mining and investigations. Headquartered in Seattle, GGO offices are located in New York, Santa Clara, San Francisco, Dallas, Los Angeles, and London, serving all metropolitan markets in Europe, Asia and North America. Leading global corporations, Fortune 1000 companies, Am Law 100 law firms, and government agencies, including the Library of Congress, rely on GGO for robust technology and personalized service. To learn more about GGO, visit http://www.ggollc.com