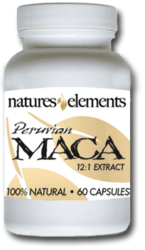 Lindenhurst, NY (PRWEB) January 22, 2013
People wonder how the Incas built a "city in the sky" without any of the technology and resources that are available today. Legend has it the answer lies with superfoods, with Maca being one of them. This superfood provided the energy and endurance that allowed these Incas to accomplish amazing feats. Maca provided these high energy levels without the up and down effect of a caffeine stimulant such as coffee. This is because Maca is an adaptogenic herb that provides the body with energy without chemical stimulants.
Being an adaptogenic, Maca, also known as Ganoderma Lucidum, works as a natural hormonal balancer, providing numerous health benefits for both men and women. Maca works to re-mineralize poorly nourished bodies, increase energy and stamina, and rebuild weak immune systems. In this way Maca improves numerous menopausal symptoms such as hot flashes, sleep difficulties, and mood swings. Maca also acts as a natural aphrodisiac, improving sexual performance, energy, and stamina. These benefits make Maca a superfood worthy of taking for the rest of one's life.
Natures Elements offers the purest and most potent form of Maca as a 12:1 extract. A 12:1 extract means that it is 12 times stronger than regular maca powder because it is more concentrated. This allows us to put 1000 mg of 12:1 extracted Maca in a serving size of 2 capsules rather than a non-extracted Maca which would require a serving size of 24 capsules. The process allows the consumer to easily consume the required dosage needed in order to see results. Competitors often sell less potent formulas with no extracts because they are much more inexpensive to produce enabling them to sell the product for far less. But this method does not provide the consumer with the proper dosage necessary to see results.
More information and benefits on this product can be found at: http://natureselements.net/MACA.html
Natures Elements, a high quality vitamin and herbal supplements retailer, is committed to providing real results through dedicated research and superior formulations.