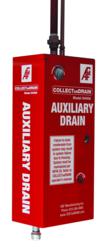 Malvern, PA (PRWEB) January 17, 2013
The Model 5400A is the latest addition to the AGF Manufacturing CollectanDrain™ product line of dry pipe sprinkler system components. The 5400A goes beyond the prevention features of the Model 5100A and 5200A by providing a temperature controlled environment to prevent costly system failures due to freezing of the condensation collectors along with localized and panel notification of required attention. The easily mounted, lockable steel enclosure is finished in a highly visible red powder coat and includes appropriate signage. Inside the insulated and heated cabinet is mounted a traditionally configured condensation collector (drum drip) with a float switch to monitor condensation accumulation levels. When condensation rises to the level of needing maintenance the Model 5400A CollectanDrain™ activates an audible alarm and a red LED warning light and can notify the Fire Control Panel. The 5400A features a heater with an integral thermostat that operates only when needed, reducing energy use while maintaining a temperature safely above freezing. In addition to its operational features, the Model 5400A includes a test button to confirm alarm functionality and an externally mounted thermometer that monitors internal enclosure temperatures.

The Model 5400A features a secure locking, red powder coated, insulated cabinet designed to increase visibility, resist corrosion, and provide required signage adhering to NFPA guidelines.
The Model 5400A is equipped with a temperature sensitive internal heating element to prevent excess condensation in the drum drip from freezing.
The Model 5400A includes a float switch that activates an audible alarm and visual signal to notify when the auxiliary drain has reached capacity and the drum drip requires draining.
An integral Test button allows for system testing and the externally mounted Thermometer allows for easy monitoring of temperature conditions inside the cabinet.
The Model 5400A Cabinet, with four mounting tabs, is sized to be easily attached to structure walls, columns, or I-Beams.
Each unit is fully assembled and ready to be attached to dry pipe systems using galvanized piping components and 1" brass quarter turn ball valves with chrome plated brass balls.