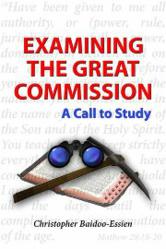 Fresh, pertinent biblical criticism.
Puyallup, WA (PRWEB) January 21, 2013
The first independent review of Baidoo-Essien's new book "Examining The Great Commission, A Call To Study" has been done by Kirkus Review and the results is posted on the Kirkus Review website. In a few words the review sums up the book as "Fresh, pertinent biblical criticism".
One can read the review in it's entirety on the Kirkus website.
Kirkus is a highly reputable book review company that has been reviewing books since 1933, and currently they are the most trusted and authoritative voice in book discovery.
Given that this is the first independent review of his work, Baidoo-Essien is encouraged and energized by the strength of the review which he views in general as a very strong positive. This is because this first independent review was able to capture exactly what Baidoo-Essien was trying to accomplish in this book project. The book is available in three formats - ebook, soft and hard covers.