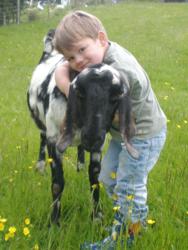 "We were stunned to hear that our goatsmilk soap had done so well. We make small batches in the farmhouse kitchen, and we've only been in business for a little more than a year. It never occurred to us that we would get national attention for it."
Llandysul, Ceredigion (PRWEB UK) 7 January 2013
In a victory for farmers and small producers, Sebon Pur by Chuckling Goat, an all-natural goatsmilk soap handmade on a Welsh farm, received a 9 out of 10 rating from the Daily Mail. Traditional favourite Pears Soap, by comparison, was rated only 2 out of 10.
http://www.dailymail.co.uk/femail/article-2233088/Fear-youre-harmed-chemicals-cosmetics-There-IS-alternative.html
"We were stunned to hear that our soap had done so well," said Richard Jones, founder of Chuckling Goat. "We make the soap in small batches in the farmhouse kitchen, and we've only been in business for a little more than a year. It never occurred to us that we would get national attention for it."
Mr. Jones and his American wife, Shann, bought their first goat after their little boy Benji was diagnosed with eczema. Today they keep twenty-four goats on their sustainable family smallholding near Llandysul, in southwest Wales.
"Once we discovered the therapeutic benefits of goats milk for allergies, eczema and asthma, we were hooked," said Mrs. Jones.
The couple began to experiment in the farmhouse kitchen with ways to use the goats milk in soaps and creams. When their son's eczema cleared up, they determined to turn their discovery into an artisan family business.
No chemicals, perfumes, detergents or artificial ingredients are used in the handmade soaps, which are scented with aromatherapy essential oils like lemongrass, spearmint and lavender.
"Since we were making the soap for our own child, we wanted everything in it be healing and chemical-free," said Mrs. Jones. "You could literally eat every ingredient. That's why we called it Sebon Pur – Welsh for "pure soap."
Chuckling Goat's most popular soap (and the one reviewed by the Daily Mail) is Oatmeal & Honey, which has no fragrance and is pure enough to use on infants.
Chuckling Goat was awarded the Platinum Award 2012 by Janey Lee Grace, who specializes in natural health and beauty products. Chuckling Goat also produces soap for the Cambrian Mountain Initiative, inspired by His Royal Highness Prince of Wales. Chuckling Goat's raw milk, kefir probiotic drink, soap and skin cream are available for home delivery anywhere in the UK.