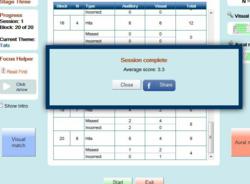 Sharing brain training progress inspires dedication and consistency
New York, NY (PRWEB) January 08, 2013
Widely regarded as the most effective brain training service available, MindSparke's Brain Fitness Pro is going social. In this latest release of its brain training software MindSparke encourages trainees to connect with Facebook and share training updates with friends. "The social aspect of brain training can make the difference between success and failure," says MindSparke CEO Martin Walker, "Sharing progress or getting support and encouragement inspires dedication and consistency--both critical to achieving results."
Avoiding the need to remember yet another user id and password brain training program users can now login to MindSparke with their Facebook credentials. And with a click of the mouse connected users can post a progress report to their Facebook wall at the end of the day's brain training session.
The new software also incorporates an innovation that will make it easier for trainees to focus while training. A unique background audio track creates a state of increased attention and reduced frustration, increasing the efficacy of the brain training exercises. "We've been using brain entrainment as an auxiliary tool for a couple of years as a way to enhance the training benefits," says Walker, "Adding a focus helper to the training module was the logical next step. It's going to be a fantastic boost for our customers."
Founded in 2008, MindSparke is dedicated to publishing effective and affordable brain training solutions. Headquartered in Brooklyn, New York, MindSparke is privately owned and has subscribers in over 30 countries across the globe.