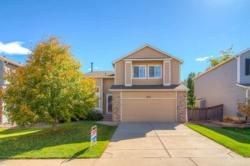 "We had no idea you could buy a home with less than 20 percent down," Hannah Kennedy, first-time home buyer in Aurora, Colorado.
Littleton, Colorado (PRWEB) January 10, 2013
In a recent survey conducted in Littleton, Colorado, approximately 97 percent of renters surveyed didn't realize they could purchase a home with a down payment of just 3.5 percent through the Federal Housing Administration, also know as FHA.
Local real estate expert Julie Montgomery with RE/MAX Masters, Inc., surveyed over 5,000 renters in Littleton and Highlands Ranch, Colorado. The results were eye-opening, according to Montgomery.
"I wish I could talk to every renter in the Denver Metropolitan area to let them know they can buy a house with a 3.5% down payment," said Montgomery. "The survey conducted confirmed what I have suspected for years: most first-time home buyers still think they need a 20% down payment before they can buy a home.
The cost of renting vs. buying has changed dramatically over the past few years, said Montgomery.
"Many people have lost their homes since the market crashed in 2008, which has created a shortage of rental properties and much higher rental fees," she said. "In many cases, it's much less expensive to own a home than it is to rent one."
FHA loans benefit people who want to own their own homes but cannot afford a 20 percent down payment. These mortgages require mortgage insurance, but the cost is spread over 30 years making the monthly payments more affordable."
Because the down payment requirement is just 3.5 percent, FHA loans require the buyer to pay mortgage insurance, which financed into your loan with no cash requirement from the home buyer. The monthly insurance is included in the monthly payment for a minimum and automatically drops off after five years.
"I wished I could talk to every renters who is currently paying at least $1,000 a month for rent," said Montgomery. "For example, potential buyers using FHA's low-down payment financing could purchase a home -- with just 3.5 percent down -- and pay the same or less than what they're paying their landlords." said Montgomery.
For more information about purchasing a home in Denver and its surrounding suburbs, contact Julie Montgomery, RE/MAX Masters, Inc., directly at 303-906-3150 or email juliemontgomery(at)remax(dot)net.
Julie Montgomery of RE/MAX Masters, Inc. is ranked as one of the top producing real estate brokers in the Mountain States Region (Colorado, Arizona, Utah, New Mexico and Wyoming.) You can contact Montgomery at (303) 906-3150 or juliemontgomery(at)remax(dot)net