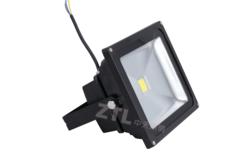 (PRWEB) January 08, 2013
Zhongtian Lighting released a 70W high lumen flood light to be a solution for this situation. Underwater outdoor LED lighting options are available on most models. These new durable fixtures are an excellent choice for pools, ponds or other bodies of water where lighting needs to covered by water. It is also a convenient choice for areas with a lot of water exposure from fountains or rain run-off. The technical specification is as following:
Model: ZT-FL-70W
Rated power: 70W
Lamp beads: 1piece
Net weight: 6.5kg
Housing material: 6063 aviation aluminum and tempered explosion-proof glass
Input voltage: 85-264VAC/DC,50-60Hz
Power factor: 0.90
Luminous flux: 8400lm(warm white), 9450lm(neutral white and cool white)
Average illumination: 76lux @ 4.0M, 35lux @6.0M,21lux @8.0M
Color rendering index: 75±5Ra
Color: Warm white/White/Cool white
Color temperature: (3000K-3500K),(4000K-4500K), (5500K-6500K)
Working temperature: -20℃ - 45 ℃
The small size and the light weight of the flood light enable it to be easily installed for indoor and outdoor applications. Typical usages for the [ZT-FL-70W] include spot lighting, architectural lighting, commercial lighting, factory and work area lighting, retail lighting, public space and building exterior lighting, as well as many other interior and exterior lighting roles.
The advantages of the LED floodlights overweight traditional lamps: with 50,000 life hour ratings, 9450 lumen output, waterproof construction and a low profile form fact, this makes the flood lighting series is very good products for users. The floodlights do not have lead, hydrargyrum and any other contamination. It not only environmental protection and energy saving. Besides, it doesn't contain adverse glare or flicker, which eliminates fatigue and distraction of vision for good light distribution. It can reach its normal light as soon as it rotates, preventing the long process of the onset of traditional light. New applications like license plate recognition and other types of vehicle and personnel recognition with video capture are proved to be an effective solution.
Zhongtian Lighting is dedicated to developing new products, willing to offer the excellent, functional, and eco-friendly LED lights to users. It manufactures all kinds of LED lamps for industrial, commercial and public indoor lighting applications. All products of Zhongtian Lighting are granted a 3-year warranty. The company is very confident to produce many more practical and popular LED bay light series for the customers all over the world.
For more information, please visit http://yueled.com.