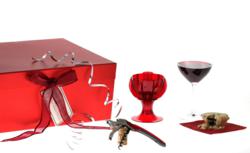 ..be romantic to keep love alive.
London, England (PRWEB UK) 31 January 2013
Perfect gifts for weight-watchers, travellers, romantics and party lovers have been designed by the WineWeaver (http://www.wineweaver.com) team just in time for the new 2013 season. The content of each WineWeaver hamper contains a selection of hand-picked items each designed to delight and amuse whilst being completely practical in application.
For the keen wine connoisseur, the "Passionate About Wine" hamper is made of wicker and holds a special notebook designed for wine tasting notes, an essential aid to the wine connoisseur as it will be used for referencing future purchases or wine comparisons; a wine aerator in matching black and a black corkscrew designed by Vacuvin.
WineWeaver have designed a hamper for the person who loves a little romance when dining at home. Presented in a classic festive red gift box, the "Wine & Dine Set" contains Black Velvet wine aerator and a matching black corkscrew, romantic red tapered candles, a luxury lighter and candle snuffer (in one). The wine and dine hamper set is a fine gift for anyone who loves to decorate a dining table and has the right accessories for enjoying a perfectly aerated glass of wine during that romantic or special dinner occasion. Patricia Robertson says " with everyone working so hard it is easy to forget the need to be romantic to keep love alive. This little hamper is designed to make it easy and fun to dine together"
When it comes to finding a gift for the traveller, have no fears as there is a fully portable wicker hamper containing a wine aerator, which can be chosen from a range of colour combinations, and a corkscrew which can be colour co-ordinated or chosen with an eclectic eye. The "WineWeaver Complete Travel Set in a Wicker basket" also includes a travel bag for the wine aerator and corkscrew in case there is a need for extra light-weight travel or is planning to visit some vineyards in the USA, Canada, France, Italy, Spain, Chile, Argentina, New Zealand or Australia to name but a few potential suitable countries to visit for wine!
For those in a mood for a little party at any time of the year, there is a small homage to the colour of emperors (those Romans knew how to party in their togas) - the "WineWeaver Purple Party" black box holds an elegant Riedel Mini Decanter (for those small almost private parties), a Classic Purple wine aerator and purple travel tote to get the wine aerator safely to and from the main event.
Hampers make a wonderful and imaginative gift for weight-watchers who like to have the treat of a glass of wine in their calorie counting regimes. Apart from the pleasure of opening the individual gifts within the hamper, there is the uniquely visual treat of pouring the wine through the wine aerator as well as the joy of having a glass of wine in optimum condition. If only one glass of wine can be enjoyed by the weight-watcher, make it count and ensure it has been aerated and served to perfection.
All in all, the sheer excitement of opening a WineWeaver hamper is topped off with knowing the recipient of the gift will have the pleasure of using all the carefully selected items time after time.
About WineWeaver:
WineWeaver are a small, committed and dynamic team who are truly passionate in their aim to raise the awareness of the advantages of enjoying aerated wine. Flavours, aromas and character are all heightened when a wine has the opportunity to breathe before serving which is why the WineWeaver wine aerator was designed.
The passion of the founding partners led them to design a new wine aerator to incorporate functionality and a visual design which is both sophisticated and stylish.
The WineWeaver® wine aerator blends unparalleled performance with a state-of-the-art design to deliver perfectly aerated wine direct to your wine glass or decanter.
Contact:
Patricia Robertson
contact[at]wineweaver[dot]com
Tel: 00-44-203-427-5928
Head Office: 2.07 Second Floor, 83 Victoria Street, London, SW1H 0HW, United Kingdom
USA Office: 7 Wilton Crest, Wilton, Connecticut, CT 06897, United States