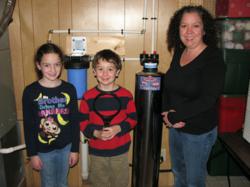 We've noticed the water feels different in the shower/baths. So happy we won!
Charlotte, NC (PRWEB) January 26, 2013
ER Plumbing Services, a Charlotte plumber, has gone above and beyond the call of the average plumber as they gave away a Pelican whole house water filtration system.This initiative is part of their mission to educate the public on health and safety issues. The recipient of the filtration system is Amy Johnson of Charlotte, NC.
Quote from Amy: "Here's my pic with the kids and the filter. We are already loving it! Filling water bottles before school each morning goes so much faster now that I can use the sink rather than our slow refrigerator water. :)
"We've also noticed the water feels different in the shower/baths. So happy that we won! Thank you so much for doing these fabulous giveaways!
"I also wanted to say that your technician was fantastic. He even found my broom and swept up the floor even after I told him it wasn't necessary. And he offered to help put stuff back in the storage room too."
In the past, ER Plumbing Services has given away an iPad and a tankless water heater. This giveaway helped to bring awareness to water quality while also treating the Charlotte area with a chance to win something that will help their family. A whole house water filtration system is a great way to eliminate harmful chemicals and contaminants in the water for drinking and for bathing.
A Charlotte based plumber, ER Plumbing Services, is dedicated to educating the public about plumbing tips and advice. A hot topic lately with many in the area is concerning water quality from the municipal water supply. Many area residents are concerned with the safety of the water. Is it safe to drink or cook with? Is it safe for us to bathe in? ER Plumbing Services strives to help answer these questions on their blog. They are urging everyone to become educated on water quality in their home. ER Plumbing Services also offers advice on what can be done to deal with poor water quality.
As one of the top plumbers in the Charlotte area, they have been researching water quality. Contaminants can be found in water all over the country. These include things like chlorine, bromine, chloramines, iron and sediment. Drinking and cooking with water with these contaminants can cause harm to your health. Some of these contaminants are considered carcinogens. A carcinogen is something known to cause cancer. President Obama's Anti-Cancer Panel recommends filtering tap water to reduce these risks of illness and cancer.
Water quality is not something to take lightly. So many are now turning to drinking bottled water. Most bottled water is no better for consumers than drinking tap water. Sources for the bottle water range from the Detroit River to springs in France. Not only is most bottled water not any healthier for consumers, but it also has a high cost and produces waste. Recycling is on the rise, but there are still countless amounts of energy and resources used in bottling water.
The best advice ER Plumbing Services wants to pass along is to reduce waste and improve health by using a whole house water filtration system. This reduces the amount of contaminants that the body is exposed to in the digestive system as well as through the skin. It can also cut down on wear and tear in appliances like the dishwasher or washing machine since it reduces the amount of build up associated with minerals in the water. Using reusable water bottles with a whole house water filtration system will also reduce the waste associated with bottled water.
ER Plumbing Services urges the public to become educated on all plumbing related topics. A blog discussing the latest plumbing tips can be found on their site. David Parker, owner of ER Plumbing Services, also offers an "Ask Dave" page where the public can ask him plumbing related questions. Inquiries about whole house water filtration systems can be addressed by contacting ER Plumbing Services directly at http://www.erplumbing.com.
# # #