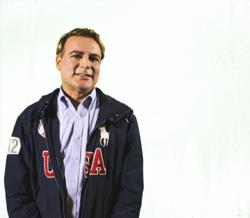 (PRWEB) January 04, 2013
"Genu Valgum of the knee is now being treated with regenerative medicine at the Center for Regenerative Medicine," according to A.J. Farshchian MD an orthopedic regenerative practitioner at the Center for Regenerative Medicine.
It is very important for the knee to be aligned properly. Patients who develop knock-knees is usually because of more pressure on the lateral (outer aspect of the) knees. This condition is also known as "Genu Valgum." This abnormal distribution of weight causes wearing of the cartilage and joint to accelerate and makes arthritis worse. In this condition legs are bowed inwards in the standing position (see the picture). This unusual misalignment usually occurs at the level of the knees, and then when the patient is standing with his or her knees together, the feet can not touch each other. Again this condition is seen in obese people by far more commonly.
U.S.A. based physician, Dr. Farshchian, is a medical author, humanitarian, and active republican member. He is best known for coining the term "orthopedic regenerative medicine." Dr. Farshchian is recognized as a leading authority in the new clinical science of regenerative medicine. He is also a Television personality, currently hosting "The Arthritis Show."
The Center for Regenerative Medicine in Miami, Florida concentrates on helping arthritic and injured people to get back to a functional level of life and their activities using non-surgical techniques and Orthopedic medicine. The center's expertise is in treatment of conditions of spine, knees, shoulders and other cartilage damages. They have developed non-surgical and rehabilitation techniques focused on treatment and management of joint pain. Their team includes health professionals organized around a central theme. Their website is http://www.arthritisusa.net