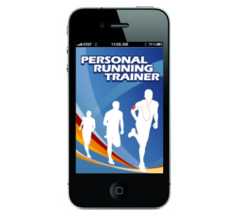 Running apps, like Personal Running Trainer, are receiving the lions share of digital downloads...
Richmond, VA (PRWEB) January 04, 2013
Running app sales have taken off leading up to and during the first week of 2013.  Fitness experts and exercise enthusiasts are in agreement that the technology craze has enhanced awareness and a basic desire for people to get off the couch and into the streets.
New Year resolutions are partially responsible for the spike in downloads. Another variable in this new-found interest in running apps, is the subtle ways that Apple and Google have positioned themselves this year.  Both companies have launched new operating systems, complete with new devices and smartphones.  The competition between the two companies spurs innovation and creativity among mobile app developers, as well as new twists and innovation to the running app genre.
While losing weight is no easy task, there is no reason to get discouraged.  There are websites that offer free tips and training plans and there are several new fitness apps available to get you moving in the right direction.  Running apps, like Personal Running Trainer, are receiving the lions share of digital downloads, followed by walking, yoga and biking apps, according to sales figures from the Apple iTunes App Store. The addition of tech to the cardio or weight training routine can have the bonus effect of pushing your workouts to the next level.  The advent of digital watches, pulse-rate monitors, pedometers and other devices has brought kinisiology and the science of fitness to the forefront of the American subconscious.
The ease and convenience of being able to keep track of your heart rate, distance traveled and keeping tabs on your progress levels are all engaging the user in a way that is fun, convenient and non-evasive.  The need for expensive devices from your neighborhood electronics store is obsolete with the creation of workout apps and wireless, portable devices available online.
The brilliance of this new technology is that a user can monitor their progress in real-time with jogging maps, previous lap times, calorie burn statistics and other analytics.  Having this information at one's fingertips is the reason that the industry is on an upswing.