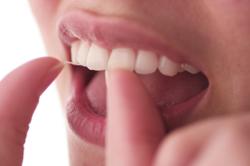 using an oral irrigator is just as effective in removing plaque as flossing
Houston, Texas (PRWEB) January 16, 2013
Just about everyone knows they should be flossing once a day without fail but most people find it a real chore. Even though daily flossing is recommended by the American Dental Hygienists Association, a recent survey by a producer of oral health care products found just 20% of the population do so on a regular basis, and it is highly likely that many don't do it properly. Apparently 30% of respondents said they didn't floss regularly because the dental floss wasn't handy, while a whopping 40% said they simply forgot to do so. Even though most adults fail to floss regularly, 87% wished their children would floss more frequently. Many thought their kids would be more inclined to do so if they liked the products. So what are the best dental hygiene floss recommendations, and why?
There are a huge number of different flossing products on the market. They include waxed and unwaxed floss, woven flosses and shred resistant flosses. Most of the cheaper flosses will be made from nylon, but the newer flosses are made out of monofilaments and are resistant to tearing and stretching. Some people have been put off using floss in the past as they have found it shreds, breaks or gets stuck during the process. If this is the case then it is well worth trying one of the newer generations of flosses. You can also purchase disposable flossers that can be used anywhere at any time.
Our dental hygiene floss recommendations should also take into account the different thicknesses of flosses. Everyone's mouth is different, so if you have tightly packed teeth then you will find it easier and more effective to choose a thinner floss, whereas someone with quite widely spaced teeth would find this type of floss pretty ineffective at removing dental plaque. Your dental floss should slide comfortably in between your teeth without being forced. Many people prefer to use dental tape as opposed to floss. This is basically a piece of tape that can be waxed or unwaxed. It can be easier to use than traditional floss as it tends to be thinner, and may be an ideal choice for anyone who hasn't flossed for a while.
Why is Flossing so Essential Anyway?
The contact areas of your teeth account for around a third of the total surface area, so if you merely brush then you aren't cleaning all your teeth effectively. These contact areas are prone to decay as they tend to trap bacteria and food debris. Flossing is the most efficient way of cleaning these areas.
Flossing also helps to keep your gums healthy, and is one of the best ways to help prevent gum disease. This disease is the main cause of tooth loss in the world. By flossing daily you will be helping to ensure your teeth stay firmly rooted in your mouth, and are likely to need to spend less time in the dental chair, something that will also save you money.
A lot of people do find it tricky to use dental floss, and if this is the case then we always encourage patients to ask for advice and help. We are always more than willing to demonstrate the correct technique as our dental office believes patient education is very important. Our dental hygiene floss recommendations are likely to include the advice to keep experimenting with products until you find one you are happy to use every day.
Don't Like These Dental Hygiene Floss Recommendations?
But what happens if you really can't stand using dental floss? Are there any alternatives? Luckily the answer is yes. Some people find it easier to use a dental irrigator that works by squirting pressurized water in between the gums. These types of devices can also be very useful for anyone wearing dental braces, or who finds traditional floss painful to use. A recent study found using an oral irrigator to be just as effective in removing plaque as flossing.
Another solution to traditional dental hygiene floss recommendations is to try interdental brushes. These are tiny brushes that come in a variety of thicknesses, and which are designed to slide in between the teeth. It is also possible to buy electric flossers, but anyone with gum disease or sensitive gums may find these too harsh. The main thing is to keep trying, as you definitely need to floss the teeth you want to keep.