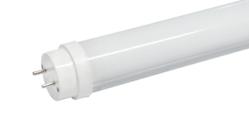 (PRWEB) January 10, 2013
According to customers' demands, Zhongtian Lighting announced the 21W T10 LED tube to replace 40W traditional fluorescent lamp. This new product enriches its production line and strengthens its competitive ability. This remarkable product breaks through the current technology barrier, even reflect the demand in lighting market, Zhongtian Lighting proves its great powerful research and development ability in LED solutions again.
The LED T10 tubes comply with RoHS, lead-free and mercury-free European directive. They emit no infrared or ultraviolet radiation. Unlike conventional fluorescent bulbs, LED lights are not disposed of hazardous waste. Solid-state design renders LEDs impervious to shock, vibration, frequent switching and environmental extremes. Savings from reduced maintenance costs and downtime quickly return the capital investment expenditure, making them as friendly to the environment as they are to the operating budget. All models are designed and built for consistent performance and high reliability and with a three-year warranty.
With Samsung's LED chip, this T10 tube light delivers 1600-1900lm only 21W power consumption. The sturdy construction of a UV-resistant polycarbonate housing over the LED tube light provides increased protection — no glass to break and no mercury environmental hazards to worry about as with fluorescent tubes. The lamps save 80% energy and last up to 25 times longer than traditional fluorescent lamps. Its quality and lumens are improved with the development of technology of Zhongtian Lighting.
Zhongtian Lighting is engaged in enriching its production line and improving the quality of product not only in lifespan but also in its appearance. The innovation and R&D is the crucial point of Zhongtian Lighting. OEM and ODM service are also available. Other products such as LED bulb, LED down light, LED high bay light are covered under its production line, and turning out Zhongtian Lighting is a comprehensive and specialized LED light manufacturer. For more information about Zhongtian Lighting and its products, please visit http://www.kouled.com/.