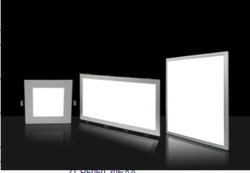 (PRWEB) January 09, 2013
Zhongtian Lighting, a leading manufacturer of LED panel light, announced its normal ultra slim series 18W [ZT-P3030-18EAH] panel light. The new LED panel light [ZT-P3030-18EAH] has lifespan of more than 50,000 hours. In other words, it can keep continuous luminous and operat at a very low power consumption levels, it will not diminished the quality of lighting for nearly four years.
In general, the LED package is a lead frame and silver plating surface treatment, on which an LED chip is mounted and reacts with hydrogen sulfide contained in the air coming through the package material and blackened, gradually lowering color rendering index. Its dimension is 300*300mm and its output is 1143lm. The LED panel light developed by Zhongtian Lighting has a white resin layer that reflects light between the package material and lead frame to prevent the sulfuration. For the lighting panel, the company employed a special LED. The panel is superior to other lighting apparatuses in terms of cost and luminous efficiency.
This product does not contain mercury or other hazardous chemicals. Zhongtian Lighting protects customers and the environment by making the [ZT-P3030-18EAH] completely Rohs compliant. Zhongtian Lighting's LED Panel Light adopts qualified super bright LED as a light source, which has a stable, long life and no UV and IR emission. It is powered by low voltage constant current driver, which promotes safety, energy saving and long life. The fantastic new panel light is specifically designed to be energy-saving replacement for fluorescence tube commonly used in large spaces like government buildings, offices, gymnasiums, subways, and shopping malls. Furthermore, the panel light is quick and easy to install because they require no starters or electrical ballasts.
Zhongtian Lighting invests heavily in product development across its entire portfolio of quality brands and these awards further validate it commitment to providing innovative, reliable LED solution s for its customers. All the products of Zhongtian Lighting have competitive price with 3 years' warranty. For more information, please visit http://www.ztlights.com.