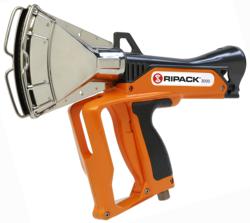 Elk Grove Village, IL —
(PRWEB) January 14, 2013 -- Ripack, the number one source for highly reliable heat shrink tools with patented cold-nozzle technology, is featuring its new Ripack 3000 in Booth-1972 at ProMat 2013 in Chicago, IL, January 21 – 24, 2013. This heat shrink gun possesses 283,000 btu's of power and a 360 degree nozzle for ease of use, with extension wands to increase reach.
Because of its higher heat capability, the Ripack 3000 works faster, saving time by 15%. Thanks to its unique, patented cold-nozzle technology, there is no risk of burns, and the nozzle can safely be rotated 360 degrees with bare hands. The new, smarter design has a trigger which incorporates an Allen wrench to unscrew the body, enabling easy maintenance of the gun. The Ripack 3000 igniter can be easily replaced without tools in less than a minute, which means there is no slowdown in production. The ergonomic bi-material handle also makes for a more comfortable, improved grip.
Ripack propane/LPG fired high heat shrink tools are revolutionizing the efficiency of packaging, palletizing, shipping, and protecting of goods, quickly getting products of any size or shape weatherproof, tamper resistant, unitized, UV and anti-static protected, ready for storage and transportation on an open flat bed. High heat shrink wrapping of products is cost effective as it eliminates stretch wrapping, strapping, capping and cardboard while providing security, printed product identification and colored film see-through prevention. With Ripack, there are no limits in terms of the sizes of products being wrapped. The Ripack shrink gun adapts to all films, all shapes and all applications.
Maker of the world's safest, fastest and most powerful high heat shrink guns, Ripack is dedicated to providing its customers with safe, reliable, ergonomic products backed by real people and personal service. Other Ripack products include the Ripack 2200 and 2000, the Ripaflam shrink packing gun, Turpopack column for pallet shrinking, Ripacover for pallet bagging, Multicover for creating any size pallet covers as needed, and Ripack Equipment Carry-All Extension Kit.
For nearly 30 years, Ripack has manufactured high quality heat shrink tools/shrink guns renowned for their reliability and ergonomic, simple design in Bordeaux, France; Ripack now serves its 60 North American distributors from its new centrally located distribution headquarters in Elk Grove Village, IL.
For more information, please contact:
Andru Ryniec
Ripack Inc.
200 Scott Street, Elk Grove Village, IL
773.267.2526 / Fax 773.267.2579
info(at)ripack(dot)com / http://www.ripack.com
# # #