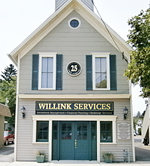 East Aurora, NY (PRWEB) January 16, 2013
Willink Asset Management LLC, an investment and financial planning firm in New York, recently published an article that offers cautions and advice for consumers about Variable Deferred Annuities with so-called Guaranteed Living Benefits.
In the article, "Variable Annuities with Living Benefits--Still a Work in Progress", CFP Fred Fadel notes that although this financial product is appealing because it offers an array of desirable features in a single package, there are questions about the industry's ability and willingness to deliver the promised benefits. To date, several major annuity companies have backed out of this market, or curtailed the benefits offered in their contracts.
The offered benefits of Variable Annuities with "Living Benefits" include a tax deferral, tax free death benefit, a locked-in market gain and guaranteed growth, guarantee of principal and other promises.
Fadel interviewed consumers who had sat through sales presentations.Most had difficulty understanding how the products actually worked. In addition, they were surprised to learn that offered "guarantees" could in fact be modified or cancelled.
"If you are being asked to sign up for what amounts to a lifetime commitment to a relatively new financial product, don't rush," advises Fred Fadel, CFP and owner of Willink Asset Management LLC. "Resist sales pitches that require you to make an immediate decision; once you sign up, it can be very expensive to get out of a contract, in ways consumers may not realize."
"Consider simpler alternatives, such as low-cost index funds, bond ladders, selected dividend-paying stocks, and traditional income annuities. An investment platform with a broad menu of investments and flexibility to meet your changing needs might be best," continued Mr. Fadel. "As a fee-only financial advisor, Willink Asset Management LLC can help clients manage financial uncertainty with peace of mind. For the complete version of Fadel's commentary on these annuity products visit Willink Asset Management's Commentary section on the company's website at http://www.wnyfinancialadvisor.com or call (716) 203-1162 for a free consultation.
About the company:
Willink Asset Management LLC is a fee only registered investment advisor; founded with the goal of assisting clients in many important aspects of their financial lives. As a fiduciary, client interests always come first and are foremost in any recommendation. Fee only financial advisors can assist customers to address a variety of financial questions and uncertainty including: When can they safely retire? Maximize Social Security Benefits? Help ensure that income in retirement lasts a lifetime or beyond; Which investment strategies make the most sense? The firm offers Portfolio Management for Individuals and Private Trusts and Consultation on Investment and Insurance matters, Pension Options Employer retirement Plans such as 401k, 403b and 457.For more information, please visit their website at http://www.wnyfinancialadvisor.com.