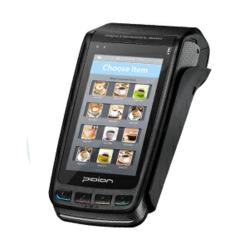 With the new Pidion MT760, Yellowfin has the most complete line of mobile POS terminals in the US.
Ellington, CT (PRWEB) January 08, 2013
Yellowfin Distribution and Bluebird announced today that they will be showcasing their new line of Pidion-branded mobile POS terminals including the MT760 at the NRF Big Show in New York City, January 12-13, 2013. The MT760 is a rugged mobile terminal that can accept payments from any type of credit card as well as contactless payments. It also has a built-in printer and features a bright 4" capacitive touch screen using Bluebird's patented EyelluminateTM display technology. Options include a choice of WLAN radio, 802.11b/g/n, and Bluetooth.
According to John Gibson, VP and GM of Yellowfin, one of the real advantages of the MT760 is the built-in security. "The MT760 meets all of the current PCI requirements for secure transactions including the use of the mandated open protocol and secure reading and exchange of data – or SRED – modules," Gibson said. "It is PCI and EMV certified and uses the strongest encryption algorithms available to help ensure secure transactions."
"The MT760 is a continuation of Bluebird's innovation in the mobile POS market," said Frank Borghese, VP of Sales for Yellowfin. "Last year at NRF the BIP-1500, which is the only hybrid handheld computer and mobile POS device I know of really captured everyone's attention," Borghese said. "Given the anticipated growth of mobile POS in the retail industry, I think we are very well positioned for growth with these purpose-built devices."
Bluebird and Yellowfin will be displaying their Pidion branded tablets, mobile POS terminals, and other AIDC products in booth 2759.
About Yellowfin Distribution
Yellowfin Distribution, headquartered in Ellington, CT, is the North American distributor of the Pidion branded rugged mobility devices manufactured by Bluebird Soft of Korea. The company was founded by mobility experts, each with more than 25 years of industry experience. The company's goal is to help mobility resellers enjoy higher product margins while providing them with the rugged, high performance, and innovative solutions their customers demand. With an augment and complement service strategy, Yellowfin can also help resellers fill out their own service and solutions portfolios making them more competitive in the market and more valuable to their customers.
About Bluebird Soft
Bluebird Soft Inc. (Bluebird), founded in 1995, is a global provider of handheld mobiles devices including mobile POS terminals, rugged tablets, and EDAs. Their expertise ranges from enterprise and industrial handheld mobile computers, printer-integrated mobile computers, handheld scanners, handheld RFID, to Android handhelds. Bluebird is the only manufacturer focused on providing handheld mobile devices for both the AIDC market as well as payment operations under the brand name of Pidion®. We successfully adapt to emerging market trends through a broad range of innovative products, and pay close attention to the voice of our customers. With partnerships all over the world including Fortune 500 companies, Bluebird continues to grow and seeks to provide high-quality products at reasonable cost, while maintaining the flexibility to customize solutions based on your business needs. Bluebird HQ and its manufacturing facility are based in Seoul, South Korea and we have offices in USA and China to best serve our global partners.