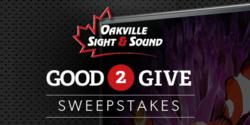 Oakville, ON (PRWEB) January 16, 2013
Christmas is the season of giving, and this year, Oakville Sight & Sound wanted to get a little more creative with how they donate.
"We were familiar with the idea of a Facebook contest, and were interested in doing one in order to develop our social media presence, but we wanted to have something unique about ours," says Jamie Kozub, President of Oakville Sight & Sound. "When our internet marketing company came to us with the idea of incorporating a charitable aspect to it, we jumped at the opportunity."
The "Good 2 Give Sweepstakes" gave Oakville Sight & Sound an opportunity to allow their customers & community to decide which charity they should donate to. "We're fans of all 5 of the charities that were involved, and it would have been difficult to pick just one of them to donate to, because they're all worthy," Jamie said. "We promoted the contest aggressively through several different channels, and we were happy that we could give all of the charities some additional exposure because of their involvement in the contest."
The Oakville & Milton Humane Society who won the donation ended up with almost 500 votes - over 100 more than the next closest charity. Brenda Dushko who is in charge of Fund Development for OMHS said, "We were thrilled when we were approached to be a part of the contest! It was very satisfying seeing residents in our community cast all those votes for us." In addition to the Oakville & Milton Humane Society, the other charities that were involved were: Carpenter Hospice, Halton Women's Place, Oakville Hospital Foundation, and Alzheimer Society of Hamilton & Halton.
Amanda Rushe of Mississauga was announced as the winner of a brand new 55'' Samsung LED TV.
Oakville Sight & Sound is an Oakville, ON-based home theatre company that has served the Oakville & Greater Toronto Area for over 20 years. They provide TVs, audio equipment, custom home theatres & home automation solutions.