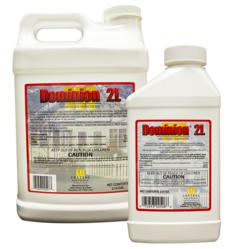 Pasadena, TX (PRWEB) January 15, 2013
CSI announces EPA approval of the addition of Exterior Perimeter/Interior Spot Treatment post-construction termite treatment language to the Dominion® 2L label. The addition of EP/IST termite treatment language now allows Pest Management Professionals the freedom to perform either a full conventional post-construction termite treatment or an EP/IST termite treatment depending on the needs of their customer using Dominion® 2L.
"The addition of termite treatment language to the Dominion® 2L label is an example of how we at CSI strive to deliver what our customers truly want and need. We are proud to provide PMP's the highest quality liquid termiticide products available and to offer the market a true choice when it comes to product selection. We manufacture not only imidacloprid-based Dominion® 2L now featuring the added language, but also fipronil-powered Taurus® SC, the first post-patent fipronil termiticide available and are proud to share that our liquid termiticides are formulated and packaged right here at our state-of-the-art production facility in Pasadena, TX," said Curtis Clark, VP Sales & Marketing at CSI.
Many customers have already benefited from using Dominion® 2L. JS Pest, a Pest Management company in Las Vegas, Nevada, has been using Dominion® 2L for its liquid termiticide work for a number of years. Dominion® 2L will enable JS Pest to offer more flexibility in their liquid termiticide treatments and tailor-fit their termite treatment options for their customers.
"We've been a Dominion® 2L user for some time now and have been looking forward to the EP/IST termite application option to be available on the Dominion® 2L label. Now that it is, we have more flexibility and termite control options which allows us to offer even more value to our customers," said George Botta of JS Pest.
The addition of EP/IST language to the Dominion® 2L label is an update driven by customer feedback and is part of CSI's commitment to deliver the latest products and label expansions for our customers. Dominion® 2L with the newly added EP/IST label language will be available immediately in all currently registered states (CA and NY pending) via a supplemental label available on CSI's website. http://www.controlsolutionsinc.com/product.asp?id=139
Control Solutions - Mission Statement
As a part of the Makhteshim Agan Group, the world's leading manufacturer and distributor of branded post patent crop and non-crop products, Control Solutions is dedicated to ...
Providing our customers with high quality, environmentally sound, and cost-competitive pesticides in the U.S. professional pest management market.
To build market share and long-term partnerships with our customers by providing a competitive advantage through our registration, formulation and marketing capabilities.
To maintaining a corporate culture of integrity, accountability and respect.
About Control Solutions, Inc.
Control Solutions, Inc. has an extremely broad portfolio of active ingredients for all your pest control and plant protection needs, and we're developing new products to bring you more value every day. CSI has launched 15 new products since 2010, including a microencapsulated portfolio and the first post-patent Fipronil Termiticide/Insecticide. Quali-Pro is an entity of Control Solutions, Inc. serving the turf, nursery and ornamental markets.
The story of Control Solutions begins in 1958, when the Boyd family purchased a small Pasadena, Texas, pest control company. By 1976, Ford's Pest Control had grown to become Ford's Chemical and Service. In 1985, Control Solutions, Inc. (CSI) was created to distribute Ford's products to the professional and consumer markets. Ford's success and growth in formulating professional pest, animal health and consumer products drew the attention of Roussel, which acquired Ford's in 1989. After the Ford's sale, Control Solutions continued as a family owned business. Today, our partnership with Makhteshim Agan Industries (MAindustries.com) multiplies Control Solutions agility in continuously adding new products to meet the needs of pest management professionals.
For more information about Control Solutions, Inc. and their products visit http://www.controlsolutionsinc.com.