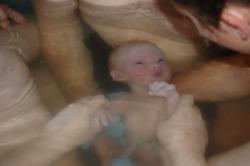 "We feel extremely blessed to have found the women at Peaceful Pregnancy Pathways"
Fort Lauderdale, Florida (PRWEB) January 11, 2013
Peaceful Pregnancy Pathways~P3 was created with the goal of nurturing a natural pregnancy community in South Florida. Gelena Hinkley, a licensed midwife, started this company to help educate woman on natural childbirth and to exonerate the myth that woman "can't handle it". As the interest and desire for natural birth in the community grew, so did the services offered.
P3 now provides:
-Waterbirths
-Specialized Maternity Packages
-Childbirth Education Classes: private, group or online
-Doula Services
-Lactation Consulting
-Placenta Encapsulation
-Breastfeeding Support Groups
P3 is excited to announce the launching of their online childbirth class series. A natural community will soon be available online which will cater to women during their pregnancy, birth, and newborn stages.
P3 truly pampers the woman during this special time in her life by offering custom tailored packages that include a 24 hour postpartum meal, herbal baths, herbal pads, childbirth education, birth kits, birth pool, placenta encapsulation, doulas, pre-natal massage and more. Each visit is done in the comfort of home with all members of the family involved.
The P3 team strives to make the family feel in-control of their pregnancy and empowers them to enjoy the natural process of labor and birth. They also pamper mom after baby arrives by providing many postpartum visits for mom and baby.
P3 ensures that breastfeeding is successful by providing the much needed support that tends to get lost in modern maternity care. We offer a morning breastfeeding support group once a month, see our Facebook group for information on locations.
The role of the placenta can not be lost either, P3 makes sure the woman knows the benefit the placenta can offer and the service to encapsulate if so desired. The P3 team prides itself on trying to provide every aspect of natural pregnancy and birth to women and families. If you are interested in a homebirth, childbirth classes, placenta encapsulation, or any other pregnancy related service, please contact Peaceful Pregnancy Pathways at (954) 780 9033 or info (at) p3birth (dot) com