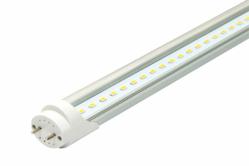 (PRWEB) January 08, 2013
Zhongtian Lighting, a leading LED light manufacturer in China, recently launched 22W T9 LED tube light [ZT-T0912-10422B] to replace the conventional fluorescent lamps. Its quality and lumens are improved with the development of technology of Zhongtian Lighting. And it is CE and RoHS approved.
It consumes only 22W and emits luminous intensity equaling to a 40W halogen lamp. The lamps save 80% energy and last up to 25 times longer than traditional fluorescent lamps. With Samsung LED chip, T9 tube light delivers 2000-2100lm at only 22W power consumption. Zhongtian Lighting's LED tubes provide for instant start-up as well and are entirely flicker free. With a long life expectancy of up to 50,000 hours, the light is meant to survive through the customers' entire life. This LED tube light is ideal for food industry refrigerators, coolers and freezers, deli cases, floral refrigerators and coolers, office lighting, general and street sign backlighting, task lighting, under cabinets/counters, display cases, interior design uses, and retail store displays.
On the other hand, Zhongtian Lighting is devoted to enriching its production line and improving the quality of product not only of lifespan but also of its appearance. The innovation and R&D is the crucial point of Zhongtian Lighting. Other products such as LED bulbs, LED down light, LED flood lights, LED high bay lights are covered under its production line; Zhongtian Lighting is a comprehensive and specialized manufacturer. OEM and ODM service are available as well.
Zhongtian Lighting's R&D team has also developed a new way to position LEDs into tube lights. Whereas other LED makers use a single row of LEDs in their tube lights, Zhongtian Lighting is now implementing a design that increases uniformity and quality of light by using two, staggered rows of LEDs. Instead of uneven light with unsightly bright and dark areas, Zhongtian Lighting's T9 LED Tube Lights produce exactly the same high-quality, natural, soft light which consumers have been waiting for in an LED tube light.
For more information about Zhongtian Lighting and its products, please visit http://www.lueled.com/4/.