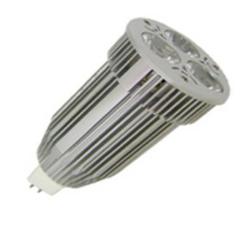 (PRWEB) January 08, 2013
As Zhongtian Lighting wants to build a good brand and expand its production line, the 9W LED spot light was announced recently. The [ZT-M16G5.3-331A] model is produced to replace the conventional lamps. It holds itself to high standards in terms of luminous efficacy, light perception, and color rendering index in the hope of reaching the international benchmark.
The LED spot light has luminous intensity distributions ranging from narrow to very wide and the suitability of these distributions depends on the application. Although there are a few exceptions, most of the lamps have color quality attributes that are similar to incandescent lamps. The LED light unit has a mounting bracket so it can be secured with bolts anywhere it is needed. In addition, it consumes a maximum of 9 watts of power, so it will significantly reduce users' electric bills, providing a return on investment in a very short time. The technical specification is as following:
Model: ZT-M16G5.3-331A
Shade dimension: D49*H112.7 mm
Rated power: 9W
LED quantity: 3pcs
Housing material: high-precision aviation car aluminum
Net weight: 95g
Input voltage: 12VAC/DC,50-60Hz
Efficiency: >0.90
Luminous flux: 400lm(warm white),550lm(neutral white and cool white)
Viewing angle: 15/18/30/45/60 degrees options
Color rendering index: 75±5Ra
Color: Warm white/White/Cool white
Color temperature: (3000K-3500K),(4000K-4500K), (5500K-6500K)
Working temperature: -20℃ - 45 ℃
Luminous efficiency: >70lm/w
In addition to energy saving and environmental protection, the LED spot light has many "special functions." It can adjust the color and brightness according to the demand, for example, you can change with the mood. Thus, the bedroom light is sometime yellow, sometimes green and sometimes pink. It is undoubtedly the advantage that immediate energy-saving lamp unparalleled. Furthermore, because the LED built-in controller chip, consumers can even achieve the operation of the wireless remote control home lighting, before going home early to open the living room lights.
Zhongtian Lighting is engaged to providing energy-efficient and affordable solution, so that cater to today's lighting needs. For more information, please visit http://www.ztlights.com