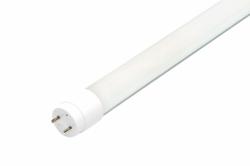 (PRWEB) January 10, 2013
Zhongtian Lighting, the premier manufacturer of LED tube light in China, announced a new product to be an alternative for traditional lamps. The LED T8 Tubes are designed to replace the equivalent fluorescent lamps available in markets today. Typical fluorescent light use approximately 75 watts, while the T8 LED lamps developed by Zhongtian Lighting only use 36 watts. The technical specification is as following:
Model: ZT-F0824-33636A
Shade dimension: 26*2400mm
Rated power: 36W
Lamp beads: 336pcs
Housing material: PC+6063 Aluminum
Input voltage: 85-264VAC/DC,50-60Hz
Efficiency: 0.90
Luminous flux: 3550lm±50lm
Viewing angle: 120 degrees
Color rendering index: 75±5Ra
Color: Warm white/White/Cool white
Color temperature: (3000K-3500K),(4000K-4500K), (5500K-6500K)
Working temperature: -20℃ - 45 ℃
Illuminance: 500lux@1.0M,180lux @2.0M,90lux @3.0M
Luminous efficiency: >70lm/w
Zhongtian Lighting choose the high brightness and color rendering of Epistar LED to present the best lighting, like the true color under the sunshine. It uses high-test-quality heat conduction material to ensure the best efficiency in its LED lighting products. Its wide range products include indoor down light, spot light, decorative lighting, outdoor commercial building lighting, industrial lighting and other customized applications. Moreover, [ZT-F0824-33636A] T8 LED tube is a healthy lighting with low glare, UV free and no flicker lighting source; it could prevent the damage to skin and eyes.
The best way to recognize the different types of lighting is lumens/watt ratio. The lumens/watt ratio of Zhongtian Lighting LED can be up to 5 times greater than a traditional fluorescent. That is because watts relate to energy usage, while lumens relate to brightness. This means Zhongtian Lighting LED tubes offer the same brightness to the human eye using much less wattage. The lamps are UL listed, available in cool white, neutral l white, or warm white. They have a unique oval-shape, as opposed to the typical round style.
Zhongtian Lighting is excited to see their product lines being used to make other businesses more successful and, at the same time, benefit society by offering lighting products that have longer lifetimes and higher energy-saving levels, compared to traditional lighting products. As an up-and-coming LED developer and manufacturer, Zhongtian Lighting is committed to offering the highest quality LED lighting solutions.
To learn more about Zhongtian Lighting's case-studies and customers' application of products, please visit the company website at http://www.ztlights.jp.