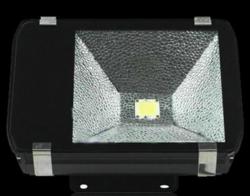 (PRWEB) January 11, 2013
Zhongtian Lighting---the leading LED light manufacturer, today announces its new product 80W tunnel light, so as to expand its production line and enrich its lamps. This LED tunnel light is widely used in workshops, large warehouses, tunnels, and the place of large scale flood lighting, construction areas, billboards, and building facades for landscape lighting.
Zhongtian Lighting's LED tunnel light fixture is designed and developed to replace traditional tunnel light fixtures for various applications. Boosted by Bridgelux white LEDs and an IP 67 high-powered driver, the tunnel light is IP65 rated for all weather applications and dusty environments. Its technical specification is as following:
Model: ZT-TL-80W
Rated power: 80W
Lamp beads: 1 piece
Net weight: 8.4kg
Housing material: aviation 6063 aluminum and steel explosion-proof glass
Input voltage: 85-264VAC/DC,50-60Hz
Power factor: 0.90
Luminous flux: 7200lm(warm white), 8000lm(neutral white and cool white)
Average illumination: 31lux @ 6.0M, 18.4lux @8.0M,12.5lux @10.0M
Color rendering index: 75±5Ra
Color: Warm white/White/Cool white
Color temperature: (3000K-3500K),(4000K-4500K), (5500K-6500K)
Working temperature: -20℃ - 45 ℃
With the high quality aviation 6063 aluminum and steel explosion-proof glass, LED lamp body obtains extremely high light transmittance. LED tunnel light of Zhongtian Lighting is corrosion-resistant, heat-resistant, and explosion-proof with high luminous efficiency. Besides, it has a long lifespan reaching up to 50000 hours.
Zhongtian Lighting is dedicated to developing new products, willing to offer the excellent, functional, and eco-friendly LED lights to users. It manufactures all kinds of LED lamps for industrial, commercial and public indoor lighting applications. All products of Zhongtian Lighting are granted a 3-year warranty. The company is very confident to produce much more practical and popular LED bay light series for the customers all over the world. OEM/ODM service, customized products and small orders are also provided by Zhongtian Lighting.
For more information, please visit http://miaoled.com/2/.