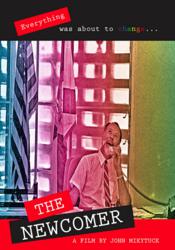 Miami, FL (PRWEB) January 02, 2013
WPBT2 marks the 30th anniversary of the election of America's first openly gay mayor with the broadcast premiere of The Newcomer on Monday, January 14 at 9:00 p.m. The Newcomer is a documentary that focuses on the life and career of Richard Heyman, who was elected America's first openly gay Mayor for the city of Key West.
Directed by Emmy Award-winning journalist John Mikytuck, the Newcomer tells the story about a forgotten gay icon and the tragic circumstances which arrested the political and social progress he made for lesbian, gay, bisexual, and transgendered people in the 1980s.
While the culture wars inflamed by Anita Bryant and the religious right had a powerful impact on the march toward gay civil rights in the late 1970s and early 1980s, the AIDS epidemic was ultimately much more destructive to the movement. The film focuses attention on that tragedy through the story of Heyman.
"John Mikytuck's, The Newcomer, recalls Key West in the 1980s, when the island had the highest AIDS rate in the nation and city leaders, including Mayor Richard Heyman, struggled to keep the truth quiet from mainstream tourists. Ironically, within a few years the AIDS virus killed Heyman and hundreds of other gay Key Westers," stated Steve Rothaus with the Miami Herald.
The Newcomer includes interviews with such longtime Keys notables as Peter Ilchuk, June Keith, John Kiraly, Joan Higgs and Dr. Mark Whiteside.
To view the trailer and images from the film, visit http://www.wpbt2.org/pressreleases/PR20121210thenewcomer.html.
The Newcomer was made possible with support from The Miami Foundation.
###
About WPBT2
South Florida's premier public broadcaster, WPBT2, is a community-licensed, not-for-profit media enterprise serving communities from the Treasure Coast to the Florida Keys. WPBT2 provides high quality content from PBS, independent acquisitions and its own original productions. WPBT2's digital media platform, offers: 2HD, a 24-hour high definition channel; Digital 2.2, a mix of Science & Nature Channel, The Florida Channel and Create; Digital 2.3, V-me, a 24-hour national Spanish-language network; and http://www.wpbt2.org, the WPBT2 website including, Impromp2 (a community blog), the WPBT2 Video Player and uVu, a video sharing website.