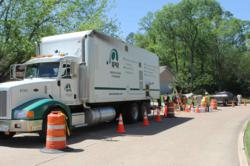 "IPR has continued to grow and flourish, even in these tough economic times" - Joe Cutillo, CEO and President
The Woodlands, TX (PRWEB) January 03, 2013
Inland Pipe Rehabilitation (IPR) announces it is relocating its corporate offices to accommodate for three years of exceptional growth. During that time, IPR's employee headcount has more than doubled.
"IPR has continued to grow and flourish, even in these tough economic times," stated Joe Cutillo, CEO and President. "Our core businesses are performing above expectations and our newly formed IPR Industrial division is off to a faster start than expected."
IPR has long been committed to providing sustainable underground solutions. Recent geographic expansion, strategic alliances and the introduction of new technologies focusing on critical infrastructure repairs have fueled the company's growth. "We've seen tremendous success with our new EcoCast geopolymer lining technology, which is not only safe for the environment, but can be a very cost-effective method of repair. Our RS Technik CIPP relining system uses epoxy resins and is NSF/61 approved for drinking water; opening a new market for IPR," added Cutillo.
IPR's industrial division has enjoyed immediate success as it continues to present its full complement of trenchless pipe renewal solutions as a safer, more cost-effective solution for the industrial marketplace. These solutions include: CIPP, pipe splitting, eco-cast, TV inspection and cleaning, and project management solutions.
IPR is the nation's largest privately-held trenchless solutions contractor with offices in six states across the United States, including CA, GA, FL, MI, TN, and TX. Licensed in over 25 states, IPR employs the latest technologies in the industry - placing high emphasis on trenchless and environmentally-friendly pipe and infrastructure rehabilitation solutions. For more information, please visit http://www.teamipr.com.