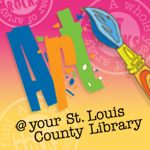 St. Louis, MO (PRWEB) January 11, 2013
St. Louis County Library is pleased to announce the Art @ Your Library programming for the first quarter of 2013. This popular series brings some of St. Louis' best arts performers and educators to the library including COCA, STAGES St. Louis, KDHX and others. Art @ Your Library features interactive programming around a different creative topic every other month. January/February's theme will be "celebrate theater." March/April's theme is "celebrate writing." During May/June, Art @ Your Library will "celebrate dance." All events are free and open to the public, but may require registration. Some highlights follow.
Celebrate Theater:
Paul Mesner Puppets Presents: Comical Adventures of Old Mother Hubbard
In a quaint old cottage the comedy of Old Mother Hubbard and her dog unfolds in a captivating manner. Ages preschool and up.
Celebrate Writing:
Blues Songwriting Workshop
Learn about the blues and how to write and perform a blues song. Workshop presented by Freedom Arts and Education Center. Ages 10–15.
Celebrate Dance:
King of Pop
Try out moves and choreography inspired by pop icon Michael Jackson. Get moving with COCA's teaching artist to favorites like "Beat It" and "Thriller." No previous dance experience necessary–just wear comfortable clothes and sneakers! Ages 9–14.
A full listing of Art @ Your Library events is available online at: http://www.slcl.org/art@yourlibrary/. Brochures with additional information are available at all St. Louis County Library branches. For more information please call 314 994-3300.
Program sites are accessible. Upon two weeks' notice, accommodations will be made for persons with disabilities. Contact St. Louis County Library by phone 314-994-3300, or visit http://www.slcl.org.