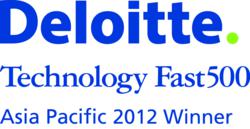 I am very proud that SnapComms is represented alongside such high-performing companies. I would like to acknowledge the support of our customers and the hard work of the SnapComms team in helping us to achieve this milestone.
Auckland, New Zealand (PRWEB) January 15, 2013
SnapComms' three year average revenue growth of 222% annually earned the company a ranking of 247 in the list of the 500 fastest growing technology companies in the Asia Pacific region.
The Deloitte Technology Fast 500 Asia Pacific measures and recognizes growth of the fastest-growing technology companies in the region and is one of Asia Pacific's foremost technology award programs. The winners comprise the 500 public and private technology, media and telecommunications companies headquartered in Asia Pacific — including China, India, South Korea, Taiwan and Australia — which have achieved the highest rates of revenue growth over the past three years.
SnapComms is headquartered in New Zealand, which as a country punched above its weight in the listing, with 45 companies making it into the Top 500, by far the highest representation per capita.
"The Technology Fast 500 results illustrate that for innovative Kiwi businesses the relatively small size of the New Zealand market is not a barrier to achieving stellar growth. As long as they get their business model right and remain true to their core values, they can compete with the best in the world," says Deloitte partner Stephen Nicholas.
"Increased digital connectivity and the cloud have levelled the playing field for companies to achieve growth on a global scale and New Zealand companies are particularly adept at capitalising on this technology."
SnapComms is among 119 software companies from across the Asia Pacific region that placed in the index (up from 87 in 2011).
Earlier this year SnapComms also appeared in the Deloitte Fast 50 index which includes New Zealand's fastest growing companies from a range of sectors. SnapComms ranked 30th overall and eighth in the technology sector.
SnapComms' employee communications software is designed to increase employee engagement and improve internal communications with employees and is used by human resources, internal communications, information technology and internal marketing professionals. The product suite includes pop-up desktop alerts, corporate screensavers and wallpaper, internal news tickers, employee quizzes and surveys and employee newsletters.
SnapComms was established in 2007 and provides internal communication software solutions to businesses in North America, the United Kingdom, Southeast Asia, Australasia, the Middle East, Africa, the Caribbean and South America.