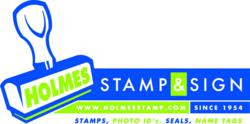 This acquisition is a big step toward keeping up with our company's rapid growth.
JACKSONVILLE, Florida, (PRWEB) January 03, 2013
January 3, 2012 – Holmes Stamp & Sign Owner Bryan Croft has announced the company's acquisition of Federal Stamp & Seal Manufacturing Company (FESSCO), an Atlanta-based office supplies wholesaler. Merger negotiations were completed last week, and the businesses began operating under the Holmes Stamp Company umbrella on January 1, 2013.
FESSCO, a staple in Atlanta since 1964, will maintain offices in Atlanta under the name All American ID Company, providing sales and customer support. All FESSCO manufacturing will be moved to Holmes Stamp & Sign's Jacksonville plant by January 15.
A family owned business for three generations, FESSCO owner Don Bradshaw will remain on board in Atlanta as vice president of wholesale sales.
Holmes Stamp & Sign is part of the Homes Stamp Company group, established in 1954 by Owen Holmes, a manufacturer of rubber stamps who later expanded the company's product line to include notary seals and engraved signs. Bob Croft joined the Holmes family business in 1975 as a partial owner. Croft's son Bryan joined the company in 1999 and took the helm as owner in 2009.
Bryan Croft worked to diversify Holmes Stamp Company and incorporate technology into its operations, which led to the launch of All American ID. With the acquisition of FESSCO, Holmes Stamp & Sign has further established itself as an office supply power player in the Southern U.S. region, servicing the entire U.S.
"This acquisition is a big step toward keeping up with our company's rapid growth," Croft says. "We have known Don Bradshaw for many years, and we've always respected his business model and reputation for excellent customer service.
"We felt it was the right time, and we were extremely fortunate to be able to work with Don and make this merger happen."
Founded in 1969 as a small rubber stamp manufacturer, FESSCO was acquired by the Bradshaw family in 1978, a decision Bradshaw says was based on the company's growth potential and target markets. FESSCO grew exponentially over the years, with wholesale customers primarily made up of large office supply companies including Office Max, and regional firms such as the Synovus Finanacial Institutions and Coca Cola.
FESSCO earned a reputation as a premier manufacturer of marking devices and identification, specializing in high quality rubber stamps, X-Stamper and numbering machines, daters, seals and embossers, and corporate supplies including corporate outfits, corporate kits, corporate seals and company certificates.
"I've known Bryan and his Father for years, and I believe the synergy of the two businesses makes perfect sense," Bradshaw says. "Theirs is a family business like ours, and they have the same commitment to excellence that we have always prided ourselves on."
Holmes Stamp & Sign processes roughly 500 orders daily from its Jacksonville manufacturing plant. Croft says they project post-acquisition orders to rise to 700 or more daily.
Holmes Stamp & Sign offers a wide range of high quality rubber stamps, name tags/identification tags, signage and awards and plaques.
For more information, visit the Holmes Stamp & Sign website, Email media@holmesstamp.com, or call 904.396.2291.
###