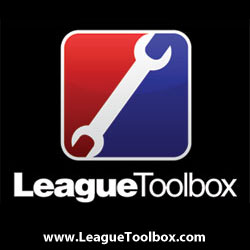 LeagueToolbox has saved us countless hours of work.
Their management software is so simple to use.
(PRWEB) January 08, 2013
An Arizona company is changing the way sports leagues are managed all around North America, saving leagues time and frustration while delivering a better experience for their members.
"LeagueToolbox is truly eliminating a significant amount of the time it takes to administer a league or organization. We recognize that most amateur leagues are run by volunteers in the US and Canada and that volunteer burnout was one of the largest concerns for leagues," said Chad Theriault of LeagueToolbox. "This league solution software was built to take league management and administration to an entirely new level. No more paper work, frustration or lost documents. LeagueToolbox looks after all league duties from the time league registration starts right up to the end of the season awards ceremony."
There are so many attractive solutions this company offers. So much so that software might be the wrong word to use. In actuality there is no software for you to install, no learning curve, no downloads, no cd in the mail and no need for a Just For Dummies new edition. LeagueToolbox is the most user-friendly tool that has come along in some time.
"We create your league website for you, you simply have a username and password provided to you for log in purposes. Our interface allows you to create your website as you wish," Theriault added. "We have templates that are in place but they are customizable. Upload your own images, announcements you name it." Quick demo videos located http://www.LeagueToolbox.com show just how easy this program is to use.
LeagueToolbox solutions cover league topics that include:
1. Online and Offline Registration
2. Full Auto and Manual Scheduling
3. Auto Updating League and Team Websites
4. Player Drafts & Document Tracking
5. Tools for Parents (youth leagues), players (youth and adult leagues)
They also have some exciting applications coming in the New Year that will take communication within the league to amazing new heights on your Android or iPhone.
They just released a free PDF document that you can present to fellow boardmembers showing them what LeagueToolbox is all about. Here is a link to it so you can take it to your next meeting. http://www.leaguetoolbox.com/ board_document_press.php
One really can't appreciate just how much this solution does and that's why LeagueToolbox created a free 30 day trial with their software. They want people to truly understand what LeagueToolbox can do for them. Users can sign up for the trial anywhere on the site with absolutely no strings attached. Oh, and by the way, they get immediate access to their support team during the free trial.
LeagueToolbox is definitely worth checking out if you want to improve the leagues efficiency, cut costs and offer an amazing online entity to all league
participants be it players, parents officials or anyone else.