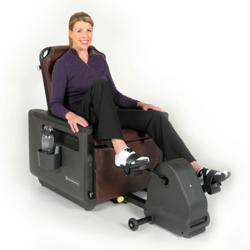 our goal was to create an attractive exercise product that lets individuals workout more often, with a wide variety of exercises to help increase strength, flexibility, and aerobic conditioning
Woodinville, WA (PRWEB) January 07, 2013
Cascade Health and Fitness has introduced the ChairMaster™ – a new fitness and exercise chair that combines a low impact cycling workout with resistance training. Suitable for all fitness levels, and attractive enough to fit in a living room, the ChairMaster gives users a total body workout.
Said company president John Post; "our goal was to create an attractive exercise product that lets individuals workout more often, with a wide variety of exercises to help increase strength, flexibility, and aerobic conditioning. We also wanted to give people a new way to take some of the time they spend sitting and doing a favorite past time like watching television - and turn it into a better way to exercise."
When asked about the ChairMaster, one homeowner said; "We looked at a lot of different exercise equipment for the home but we didn't find anything that answered all our needs like the ChairMaster. The fact that it is a piece of furniture that looks nice in our living room was a big selling point for us. It's comfortable and I like exercising while I watch my favorite TV shows."
In addition to home use, the ChairMaster is also a great fitness solution for seniors and active aging communities. Older individuals find the ChairMaster much easier to use than many larger pieces of fitness equipment like treadmills and elliptical machines.
"The ChairMaster is very comfortable for our residents, it feels like a recliner. Even getting into it from a wheelchair, they find they can put their hand down, pivot, and sit down. The ChairMaster is not scary to them, like other pieces of equipment. They can use it to cycle and use the resistance bands to work on strength for their core - it helps people improve their quality of life from the comfort of a chair", said Candace Peters, Certified Personal Trainer, GENCARE LIFESTYLE.
The ChairMaster retails for $1,095.00 and includes free shipping. Available in brown or black, the ChairMaster can be purchased directly at http://www.chairmaster.com and includes a 30-day money back guarantee. For more information on the ChairMaster™, visit http://www.chairmaster.com