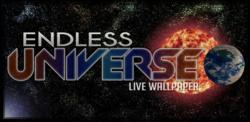 Greeley, CO (PRWEB) January 07, 2013
The live wallpaper features a variety of planets and stars in continuous vignettes, randomized to present a completely unique view every time. Each Endless Universe features four planets and a sun which exponentially expands in mass, erupts into a fiery supernova, and then collapses to become a black hole, leaving nothing but the vacuum of space. The aftermath of nothingness gives rise to the creation of a new universe with a spontaneous big bang.
Customize the entire universe with an array of preferences designed to let users create their own personal scene, or simply let the app discover the universe for you as every big bang jettisons a random set of suns and planets.
Wallpaper features:

12 unique and beautiful planets
13 universe changing sequences
Many customization options
Enable or disable a variety of elements
Pick a custom set of planets
Set to show the same moment in cosmic time
Set how many sequences show until the universe changes
4 choices on sun types
Get a new universe every Big Bang!
Access to future upgrades and additions
This live wallpaper is available on Google Play in free and full versions. With its high quality graphics and animation, series of unique planets, and randomized sequences, Endless Universe is a must have for Android users with a curiosity for new worlds and an urge to see the life-cycle of the cosmos.
Download Link
Website
YouTube Video
Massive United is an entertainment development start-up in Greeley, Colorado, developing Android live wallpaper content since 2011. Endless Universe Live Wallpaper is currently available in the United States, Canada, United Kingdom, Australia, and New Zealand. For more information visit http://www.massive-united.com.