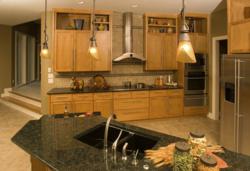 MR Direct suggests choosing the accessories and hardware last in order to use the bulk of the budget on the necessities.
Toledo, OH (PRWEB) January 15, 2013
Just thinking about making cabinet decisions is enough to turn anyone away from the task. Finishes, wood species, design style, custom-made and hardware are just a handful of the choices to make when shopping for a kitchen makeover. Prioritizing what is needed and what is wanted will help to make a confident decision. MR Direct Sinks and Faucets has compiled a list of criteria to consider when shopping for new cabinets.
First, decide whether stock or custom cabinets are the right choice. This choice ties into the budget, as the cost of custom cabinetry can add up quickly. Custom-made cabinets are built to specifically fit one kitchen with infinite possibilities of style, finish, color and accessories. On the other hand, stock cabinetry is almost as customizable at a fraction of the cost. However, fillers and spacers may be needed if the cabinetry does not completely fit the kitchen layout. Buying stock cabinets provides the ease of off-the shelf, ready-to-assemble pieces that are generally less difficult to install than custom materials.
Next, choosing the right material can be the key to bringing the entire look together. Whether the choice is hard wood or a laminate material, there are many choices available for every design style. Budget plays an important role in this decision, as well, due to the expense of solid wood and the lower cost of laminates. Choosing a solid wood such as Red Oak, Cherry, Hickory or Maple will guarantee a durable and solid construction. Even though solid wood comes with a higher price tag, the quality cannot be beat. Most solid wood cabinets have a visible grain, stainable surface and commonly utilize dovetail joints for more security.
Laminate cabinets also have their perks. Since laminate cabinets are man-made, they are very customizable in terms of colors and patterns. These cabinets are made using high-pressure heat, providing a very heavy and difficult to damage surface. The most attractive feature of this material, though, is the price. Laminates generally range from $50-$75/ linear foot compared to about $80-$150/ linear foot for solid wood construction.
Finally, MR Direct suggests choosing the accessories and hardware last in order to use the bulk of the budget on the necessities. With so much time and attention focused on the exterior of the cabinets, it is important to remember the interior of cabinets and how the space can be utilized to the fullest. Adding pull-out shelves for pots and pans, drawer organizers and lazy Susans in corner pieces can help to make each cabinet more efficient. Along with choosing accessories comes the chore of choosing hardware. Matching hardware to faucet finish, curtain rods and other kitchen features will tie the whole look together. Hardware is also all about comfort. For many, knobs and decorative handles are a great choice, but for aging hands, these choices may be more difficult to operate. It is suggested to use pull handles with a large gap for easy gripping.
With all of these tips in mind, choosing a new cabinet style should be a breeze. Consulting a cabinetmaker or kitchen designer can make the process a bit less painful, though. Since cabinets make up most of a kitchen's design, it is important to make sure everything is exactly the way it needs to be.