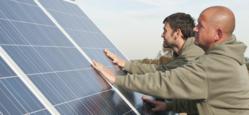 Solar panel prices have dropped 50% and even at the latest Feed-in Tariff rates, returns are as high as when the scheme first launched – often 12%.
Oxford, Oxfordshire (PRWEB UK) 16 January 2013
Independent renewable energy consultants, EnergyMyWay, today announced a new solar PV financing deal for their customers, thanks to a new partnership with The Solar Panel Group, who have recognised EnergyMyWay as a reputable partner.
Customers can now avoid a large up-front cost of switching to solar energy, and instead spread the cost over 5 - 10 years, while claiming from the Government Feed-in Tariff as soon as their solar PV is installed.
Jason Hobbins, Managing Director at EnergyMyWay, commented, "As energy prices continue to rise, many of our customers tell us they are keen to take control of their bills by switching to renewable energy, but are put off by the need to pay for solar panel installation upfront."
Solar installations are not just attractive as a way of cutting down on electricity bills. The Feed-in Tariff backed by the UK Government means that tax-free payments are made to the homeowner for 20 years, calculated on the size of the system installed and regardless of whether your renewable energy is consumed in your property or exported back to the grid.
Despite claims to the contrary, the Feed-in Tariff (FiT) is alive and well. The Government announced on 4 December 2012 that the review of the Feed-in Tariff expected at the end of January will not see a cut to the current rate. Today's rate of 15.44p is guaranteed until April 2013.
"This is exciting news for our customers as the latest panel prices combined with current tariff rates are getting returns of up to 12% for a 4kWp system." says Mr Hobbins. "Due to the high demand for Solar PV, panel prices have dropped 50% in the last six months. The simple fact is early adopters paid higher prices and earned higher rewards from the Feed-in Tariff. Today's prices are so much lower that, even at the latest Feed-in Tariff rates, returns are as high as when the scheme first launched - you simply pay less for your installation."
Many homeowners looked into solar panel installations but were put off by the cost of installation. EnergyMyWay urge people to get re-surveyed now that solar PV is more affordable than ever. "Act now, while panel prices are low and the returns are still high," is the message from EnergyMyWay.
About EnergyMyWay
Trading since 2008, EnergyMyWay specialises in a 'whole house' solution, so we only recommend products that are suitable for your property and the way you live or work in it. We help you to find the best renewable energy solution for you, from Solar PV or Solar Thermal to Air Source or Ground Source Heat Pumps, Biomass boilers and Wind Turbines. we also help you to claim the financial rewards from government subsidies.
EnergyMyWay has offices around the UK, with headquarters near Oxford and provide independent, expert advice about renewable energy to homeowners, businesses and community groups.
EnergyMyWay are MCS accredited installers and members of the REAL Assurance customer code of practice, and are qualified domestic and commercial energy assessors and all trusted partners carry the appropriate accreditation.