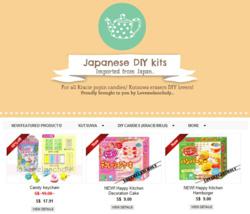 Singapore (PRWEB) January 05, 2013
2013 is the perfect time to start an online business with the new $3.90 (usual price $9.90) novice plan deal, by TackThis. At just $3.90 per month, users can get a one-stop social e-commerce solution that is packed with features such as a synchronized inventory, track sales, customize shop layouts and even sell through their blogs and Facebook page.
With its simple user interface, TackThis is catered for individuals with no prior knowledge of programming and coding. Users can establish their virtual shop front in no time using this E-Commerce solutions, with its step-by-step guide and instant online chat service.
Besides its user-friendly interface, users can reach out to their customer through multiple platforms by "Tacking" the virtual shop front created with TackThis on various websites (i.e. blogs, Facebook Page). This seamless integration has also provided online shop owners the freedom to switch websites effortlessly.
Timed promotions, discount coupons and deals can be easily created, to help boost sales revenues and drive traffic to the site. Users can track customers' information, sales transaction and payment status at a simple click of a button. TackThis has helped many small and medium enterprises (SME) and aspiring business owners tap into power of the Internet.
To sign up for the promotional code, simply click here or key in the code "HAPPYTACK390" when registering from the novice plan. Subscription of the $3.90 per month plan closes on the 15th February 2013, it is only valid for first time sign ups!
About PayWhere
PayWhere is a budding start up, that seeks to provide an easy solution for social e-commerce. It is incubated by National University of Singapore Enterprise and Red Dot Ventures.
Tackthis! is the proprietary product of Paywhere Pte Ltd and it is the social commerce platform that offers an easy way to publish products, run promotions and sell online on your websites and social media channels.