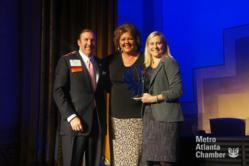 Paula, and the great work that is being done at the Georgia Partnership for TeleHealth, are perfect examples of what we are trying to accomplish in Georgia
(PRWEB) January 03, 2013
Atlanta Leaders, Companies Recognized for Health IT Excellence
The Metro Atlanta Chamber (MAC) has selected three Atlanta companies as the recipients of this year's Phoenix Awards, recognizing outstanding contributions to the growth of the health IT industry in Georgia.
Among the three 2012 Phoenix Award winners,  AirWatch and REACH Health received awards recognizing excellence among companies in the health IT field. Paula Guy, CEO of Georgia Partnership for TeleHealth, was recognized in the Community Leader of the Year award category.
"Paula, and the great work that is being done at the Georgia Partnership for TeleHealth, are perfect examples of what we are trying to accomplish in Georgia - bringing key executive leadership and commercialization together for a common purpose with a shared goal of making Georgia a healthier place to live and work. Paula started locally, went statewide and is now branching out nationally. This type of tenacity and drive will no doubt keep the Georgia Partnership for TeleHealth on a successful track and will help continue to raise the bar in maintaining Georgia as the nation's Health IT Capital," said David Hartnett, Vice President, Economic Development, Bioscience-Health IT Industry, Metro Atlanta Chamber." says David B. Hartnett, Vice President, Economic Development, Bioscience-Health IT Industry, Metro Atlanta Chamber
The awards, given annually in conjunction with the Health IT Leadership Summit, recognize excellence in individuals and companies. The awards were created by MAC in recognition of the major role the health IT industry plays in Georgia's economy. Georgia is the health IT capital of the nation, with more than 225 health IT companies employing approximately 16,000 in the state.
The Health IT Leadership Summit was founded in 2010 by three organizations to support the growth of the health IT industry: the Georgia Department of Economic Development, Metro Atlanta Chamber and Technology Association of Georgia (TAG) Health.
The Summit ranks as one of the nation's premier health IT events, with more than 500 business leaders, healthcare providers, and public and private organizations in attendance each year.
by Julie Bryant Fisher | Dec 11, 2012
Link to Reference: http://www.metroatlantachamber.com
About GPT:
Georgia Partnership for Telehealth, Inc. is a charitable nonprofit corporation which was formed to promote improvements in healthcare and healthcare facilities in rural and underserved communities throughout the state of Georgia by assisting in the establishment of Telemedicine Programs. GPT is known as the leading agency in Georgia focusing on increasing access to healthcare through innovative use of technology including telemedicine, health information exchange and telehealth.
Global Partnership for Telehealth's mission is to deliver worldwide access to healthcare. Our unparalleled success in the United States in applies telehealth programs and services has assisted agencies in providing cost effective, efficient, and high quality healthcare to hundreds of thousands. GPT is reaching beyond our borders to bring healthcare to the world.