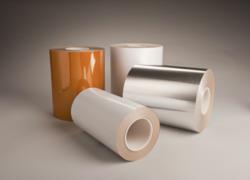 Polyonics, manufacturers specialty coated tapes, films and label materials for application in high temperatures and harsh environments.
Westmoreland, NH (PRWEB) January 08, 2013
Polyonics announced that it has added Terry Jones to its board of directors. Terry is a customer focused executive with a diverse background in managing both the financial performance and strategic direction of domestic and international companies. He brings a tremendous amount of knowledge and experience that will not only help grow the business, but also guide the continuing success of the employee owned ESOP (Employee Stock Ownership Plan) organization.
Polyonics Overview
Polyonics develops, manufacturers and markets specialty coated engineered tapes, high performance label materials and flexible substrates that withstand high temperatures and harsh environments. The products also offer printability, flame retardant and antistatic functionality. Through continued research, new product development and innovative manufacturing, Polyonics provides high quality, cost effective technical solutions, service and training for its worldwide customers.