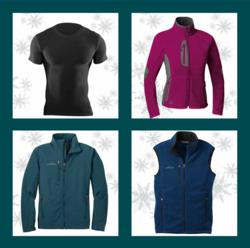 Chicago, IL (PRWEB) January 22, 2013
Izo continues to build brand relationships with the introduction of apparel from Under Armour, Eddie Bauer, and First Ascent. These additions include soft shell jackets, fleeces, fleece vests, other outerwear, and technical garments as well as hoodies and polos. These customizable products are available in the online catalog, brand new in 2013.
Under Armour appeals to teams at the high school and collegiate levels as well as gyms, races, and athletic organizations seeking high quality performance wear. The Tactical Compression Tee along with an athletic hoodie and wicking golf shirt comprise Customizo's new Under Armour product additions.
Giving a nod to frosty January temperatures and the ongoing winter season, Customizo continues its commitment to quality with outerwear and fleeces from Eddie Bauer and Eddie Bauer's world class expedition and skiwear line, First Ascent. Perfect for any resort, scouting adventure, or outdoor club, First Ascent's technically superior customizable jackets dominate the competition.
Slightly less hardcore while retaining high standards of excellence, the inclusion of Eddie Bauer softshell jackets and fleece vests round out the customizable outerwear category. These products will be carried in both men's and women's styles, which can be easily customized with the same designs and embellishments in the Design Studio and placed in the same order.
About Customizo and Izo Brands: With Customizo, Groupizo, and Snapizo, Izo is knitting the framework for the future of e-commerce with a multi-faceted set of innovative product customization and design tools, a unique group collaboration interface, and mobile media distribution applications. Izo's mission is to be the most customer-centric, creative, and innovative company in the custom apparel and promotional products industries.