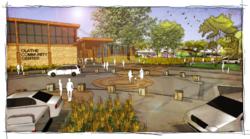 Confluence is very proud to have been involved with this legacy project for the Olathe leadership, staff and their citizens.
Olathe, Kan. (PRWEB) January 09, 2013
In addition to community center improvements, Confluence also master planned and designed improvements for Stagecoach Park, the setting for this new facility. The first phase of park improvements will be constructed along with the new community center.
The new community center will include indoor aquatics, a gymnasium, fitness area, wellness center, several community rooms, and child play areas, and was designed to achieve LEED Silver certification. Additional site features include ample parking, pedestrian trail connections, a sprayground area, and adjacent patio spaces and interpretive park areas that extend the use of this facility into the surrounding park environs.
Extensive design and planning efforts were taken to properly nestle this proposed facility and related site improvements into the existing passive park's rolling terrain, mature trees, and water features. Confluence also created a new master plan for the entire park, providing an opportunity to consider additional creative enhancements and park improvements that can be implemented over time to address the community's short and long-term needs. Confluence will also assit with City Council and stakeholder involvement throughout the design and planning process.
Confluence is a professional consulting firm comprised of landscape architects and planners. The firm's work includes a wide range of public, educational, institutional, and private sector projects. Confluence's process is focused on collaboration and interaction with our clients, consultants and the community in which we work. Confluence has sixteen licensed landscape architects and carries licenses in Iowa, Illinois, South Dakota, Nebraska, Missouri, Kansas, Wyoming and Minnesota.
Confluence brings the skills of landscape architecture, land planning and urban design to each project, giving us the tools to merge our client's needs with the environment. Our work is characterized by a philosophy of place-making; creating unique, human connections with every project, its location, and its surrounding environment. For more information, please visit our website at thinkconfluence.com.