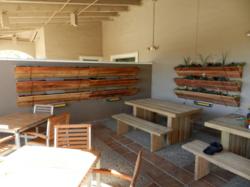 Flower Street Urban Gardens can be a beautiful and sustainable addition to restaurants.
Phoenix, AZ (PRWEB) January 22, 2013
Flower Street Urban Gardens is proud to announce the successful installation of the patent pending vertical gardening design now being featured at Grassroots Kitchen and Tap.
Grassroots is a trendy restaurant located on 8120 N. Hayden Road in the premier uptown Scottsdale area and is a noteworthy branch of the Family Collins Restaurants.
Partnering up with a restaurant like Grassroots has been a welcome opportunity for Flower Street Urban Gardens and seems to be a natural fit for both Grassroots and Flower Street Urban Gardens regarding the shared virtues of sustainability and local consumption.
As a mission statement of sorts, Grassroots included this sentiment on their webpage: "The name (Grassroots) comes from our desire to be community driven. We try to work with as many local farmers and vendors as possible and support the community."
This statement struck a definite chord with Flower Street Urban Gardens, as it seems to be a common thread that runs through both of their business pursuits.
Flower Street Urban Gardens believes there is a wide market of restaurants and small businesses that could benefit from having their very own Flower Street Urban Gardens vertical gardening system.
In promoting sustainability and growing local, chef's valley wide can see the growing demand and desire coming forth from their customers to support the aforementioned causes.
Flower Street Urban Gardens can be a beautiful and sustainable addition to restaurants and will undoubtedly show customers that they are serious about having only the freshest grown ingredients in their dishes.
Having the asset of a system that is not only ascetically pleasing from a design standpoint but is also a user-friendly growing tool goes a tremendous length in terms of customer perception, quality, and freshness.
Make Flower Street Urban Gardens that 'something special' about a restaurant that differentiates their business and keeps their customers coming back for seconds.
Contact Alex at 602-327-6560 with any questions and visit us on Facebook and at flowerstreeturbangardens.com