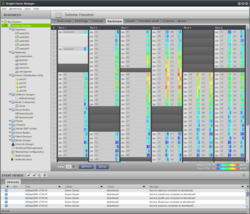 We selected Bright Cluster Manager for its intuitive interface, ease of use, and responsive support.
SAN JOSE, Calif. (PRWEB) January 10, 2013
Bright Computing, the leading independent provider of cluster management software, announced Bright Cluster Manager was selected by the Department of Earth Sciences at Syracuse University for provisioning, scheduling, monitoring and managing its HPC cluster.. Assistant Professor Dr. Robert Moucha, the principal investigator, is studying the evolution of the earth's surface through the use of fluid dynamics simulations.
"We selected Bright Cluster Manager for its intuitive interface, ease of use and responsive support," said Dr. Moucha. "Previously we used Rocks."
"I don't have days to search community news sites and HPC user message boards for fixes to broken open source tools. I need something where I could get support within 24 hours," continued Dr. Moucha. "My success is measured by my published results, and the educational experience of our students and graduate students. I am not measured on cluster management— but it does have to work."
The department's cluster runs proprietary research applications and MATLAB on a combination of Intel® Xeon® E5 processors and NVIDIA GPUs. Dr. Moucha was attracted to the ease of managing mixed CPU and GPU environments, which he found to be far easier with Bright than with open source toolkits. "Bright makes sure you have the right drivers on the GPU and CPU nodes, so you don't have to even think about it." Bright's intuitive GUI gives complete visibility to all aspects of the cluster, making it fast and easy to identify and rectify system problems.
Dr. Moucha also liked the development packages available with Bright Cluster Manager, and how easily Bright works with HPC compiler suites from The Portland Group, Intel and others.
Dr. Moucha feels a strong sense of urgency to produce results. He and the rest of Syracuse University's Earth Sciences team keeps to a tight research schedule so it can be accountable for the National Science Foundation grant money. Using Bright to manage their cluster instead of Rocks enables Dr. Moucha to spend a lot more of his time on his research and teaching.
"I have to produce," said Dr. Moucha. "Publishing is very important in able to secure grants. And, like most assistant professors, I'm on a tenure track. I need to meet key objectives within five years. Managing the cluster isn't one of those objectives."
The department's cluster was built by Bright partner Nor-tech, a system integrator that provides significant value-add beyond building clusters tightly tuned to their customers' requirements, including high reliability features, extensive pre-configuration and testing
For more information about Bright Cluster Manager, please visit: http://www.brightcomputing.com/Bright-Cluster-Manager.php
About Nor-Tech
Nor-tech is a leading system integrator with more than ten years experience providing high performance solutions to the scientific community. Nor-Tech platforms range from standalone scientific workstations to scalable high performance clusters performing large-scale research. http://www.nor-tech.com
About Bright Computing
Bright Computing specializes in management software for clusters, grids and clouds, including compute, storage, Hadoop and database clusters. Bright's fundamental approach and intuitive interface makes cluster management easy, while providing powerful and complete management capabilities for increasing productivity. Bright Cluster Manager is the solution of choice for many research institutes, universities, and companies across the world, and manages several Top500 installations. Bright Computing has its headquarters in San Jose, California. http://www.brightcomputing.com.
Pictures and screenshots of Bright Cluster Manager
http://www.BrightComputing.com/Newsroom.php