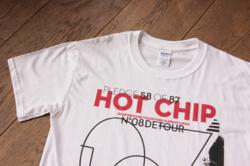 London (PRWEB UK) 16 January 2013
The London based, t-shirt printing company have had the pleasure of working with some fantastic individuals and businesses.
Made In Chelsea star Caggie Dunlop printed her second line of t-shirts with the print studio, in time for the fourth hit series on Channel 4. Caggie's brand ISWAI is an inspiring and imaginative label, that brings aspiring fashion designers ideas to fruition.
Early this year Icon Printing worked with Red Bull to turn around 400 screen printed t-shirts in under 7 days. This was just in time for their series of Culture Clash gigs, where some of the biggest names in music - such as Magnetic Man and Major Lazer battled it out. Fans were able to vote for their favourite artist and win free merchandise.
Another exciting run of prints were direct to garment printed for a music event that was "self organised" by fans of the band Hot Chip, via the website Songkick.com. Half of the 200 t-shirts were individually numbered 1-87, for lucky fans to receive as a "thank you" for all their support.
To top the year off, Icon Printing also had the pleasure of printing some of the garments for the Professor Green X Puma collaborative label. It has been an impressive year for the small business, which was recently in 2010 by budding entrepreneur Alex Econs, who has a background in graphic design.
The team eagerly await 2013 with ambitions to print a quarter of a million t-shirts this year.