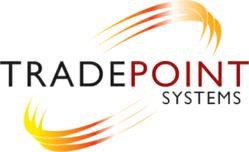 Tradepoint is competitively positioned to affect industry growth, innovation and much-needed change through a combination of creative skill, experience and established know-how
New York, NY (PRWEB) January 03, 2013
Today, three trading technology colleagues join forces to co-found Tradepoint Systems, LLC. All three were previously partners of a financial services software provider whose assets were acquired by a global media and finance giant in early 2010. Tradepoint Systems will provide consulting and software development services in the areas of liquidity aggregation, multi-asset execution management, high-frequency algorithmic trading, and automated testing of FIX-based trading systems.
Tradepoint President and CEO Eric Adelman brings 13+ years' experience in the financial services community – much of his knowledge gained selling execution management, algorithmic trading, FX aggregation and automated testing solutions to established global banks and hedge funds.
Adelman is joined by 27-year technology veteran Joey Horowitz, whose responsibilities will encompass technology, sales and strategy. "Today the market structure is under tremendous pressure to evolve," said Horowitz. "Tradepoint is competitively positioned to affect industry growth, innovation and much-needed change through a combination of creative skill, experience and established know-how."
Rounding out the trio, Bill Adelman will serve as Tradepoint's Director of Product Development. Mr. Adelman leaves a three-year role where he led a team in the continued development and improvement of a globally-acclaimed foreign exchange liquidity aggregator and execution management system. During his 17-year career, Adelman has led developers in the creation of several products, including the a multi-asset trading platform and a suite of tools for automated, regression, interactive and performance testing of FIX-based trading systems.
With the Tradepoint launch, President and CEO Eric Adelman remarked, "For nearly 20 years, our team has been creating trading software used by over 90% of U.S. bulge-bracket broker dealers. We're excited to start this new chapter and meet our clients' growing industry demands with forward-thinking solutions."
About Tradepoint Systems, LLC -- http://www.trdpnt.com
Tradepoint Systems, LLC is a financial services technology provider based in New York City since 2012. Tradepoint provides software and professional consulting services to the financial services marketplace, offering vast experience in the design, implementation, support, sales and marketing of financial services products with specific focus on liquidity aggregation, multi-asset execution management, high frequency algorithmic trading, and FIX based automated testing of trading systems.